V-Mart gets in first spring action behind dish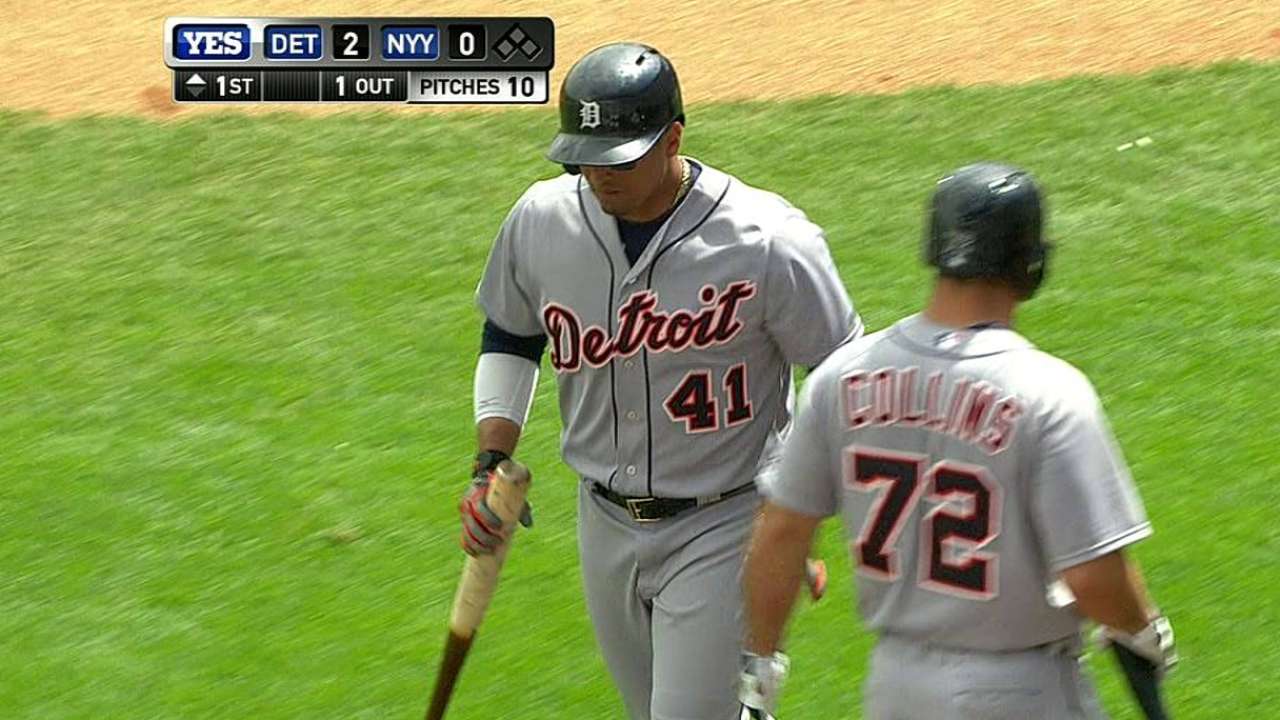 LAKELAND, Fla. -- Virtually a month to the day after Victor Martinez reported to Spring Training with catching gear in tow, he finally had the chance to put it to work in a game. He might not have to wait long into the season to do it again.
While Max Scherzer continued to build toward defense of his American League Cy Young Award, he was the second biggest story of the Tigers' pitching battery. Martinez caught Scherzer's first three innings -- his first catching work in a game this spring -- as he prepared himself to catch some games in Interleague Play, which begins for the Tigers in the season's second week.
"He actually did a pretty good job," manager Brad Ausmus said. "I talked to him afterwards, he said he felt fine. It was really more about getting him back there. He held his own. One ball, he blocked really nicely."
It was the first time Martinez has caught Scherzer since 2011 -- Martinez's first season in Detroit and his last season catching semi-regularly. A sprained knee late in that season, followed by a season-ending knee injury during workouts that offseason, ended those days.
"I like him back there," Scherzer said. "He's got a good, creative mind how he wants to sequence [pitches]. He really wants to know what your pitches are. He wants to know what your strengths are."
Scherzer and Martinez worked together to mix in some sliders to left-handed hitters in different counts.
"For the last couple days, he was real excited to catch me," Scherzer said. "We were throwing jabs with each other. He's great behind the plate. He's very intelligent with the game. And because he's such a good hitter, he also knows what the hitters are trying to do. So you kind of respect what he's thinking.
"When he's behind the plate, even though he hasn't caught much over the past three or four years, he's right there at everybody's level with his thinking on how he wants to approach calling a game."
Jason Beck is a reporter for MLB.com. Read Beck's Blog and follow him on Twitter @beckjason. This story was not subject to the approval of Major League Baseball or its clubs.