With Iglesias out, Suarez impressing at short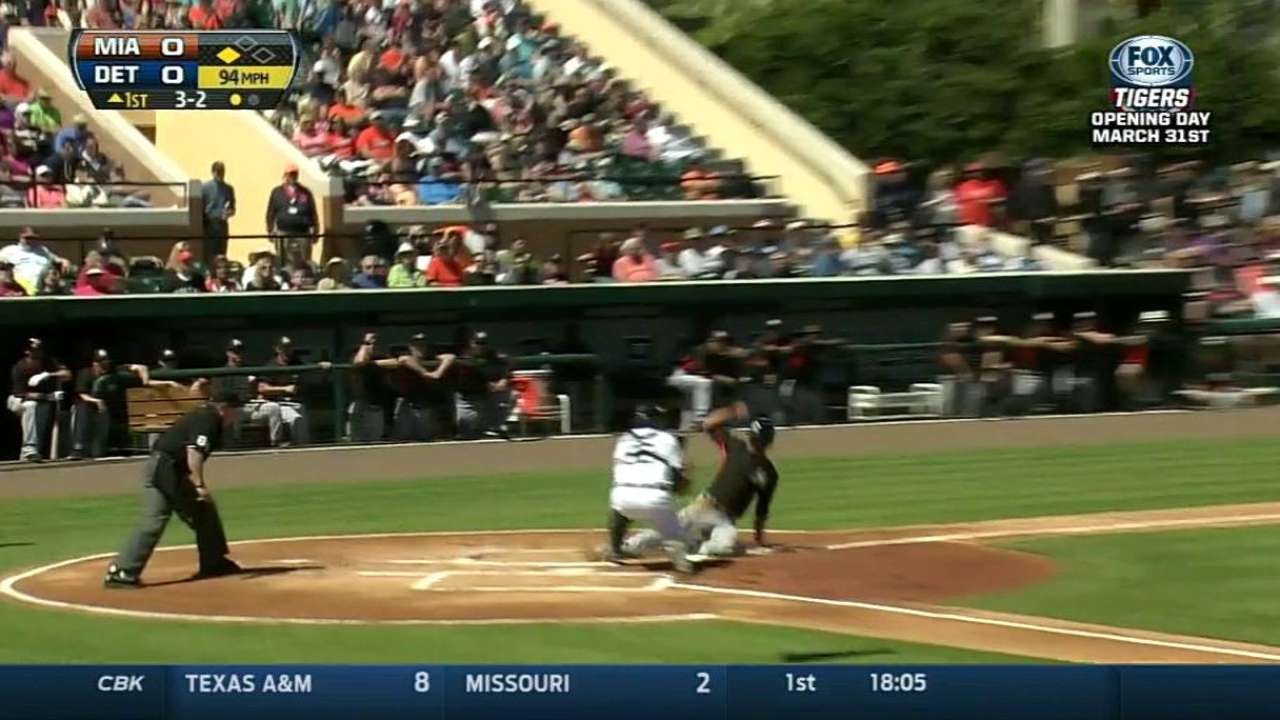 LAKELAND, Fla. -- While Jose Iglesias tries to work through the stress reaction in his shins that has now cost him two weeks of Spring Training action, the Tigers have had to fill the hole at shortstop in their games. One player's setback becomes another player's opportunity.
Eugenio Suarez is one of the beneficiaries of that opportunity.
"I think he's opened some eyes a little bit this spring," manager Brad Ausmus said, "even from some of the people that have seen him play in the past."
The scouting report has usually cited Suarez as a defense-first shortstop who could field in the big leagues right now, but is further behind in his hitting. His upside in the latter has been much-debated, and usually determines how highly people regard him.
So far this spring, the 22-year-old has held his own. His 0-for-4, two-strikeout performance Thursday afternoon against the Marlins dropped his average to .250 in Grapefruit League play, but he hasn't looked overmatched.
"He shows power at times," Ausmus said. "He's got the ability to really extend through the ball, which can give the baseball carry, but I think he's learning -- not only his swing, but I think he's got to learn how to build some consistency into that swing, not trying to do too much with the baseball when it's being thrown to him. Let his swing take care of itself."
Defensively, Ausmus said, Suarez has caught his eye.
"He might not have quite the range that a guy like Iglesias has," Ausmus said, "but he certainly has some really good hands, and he doesn't look overmatched out there. I haven't seen a ball come at him where there's any type of panic in his body. He's very collected when he's playing defense."
As for Iglesias' status, Ausmus said nothing has changed. At this point, it's unclear whether Iglesias will be able to return to game action this weekend.
Ideally, Ausmus said, Suarez could benefit from more playing time in the Minor Leagues. Whether that would rule him out from filling in for Iglesias if he opens the season on the disabled list is unclear.
Jason Beck is a reporter for MLB.com. Read Beck's Blog and follow him on Twitter @beckjason. This story was not subject to the approval of Major League Baseball or its clubs.