Coke crafting curveball as he tries to win job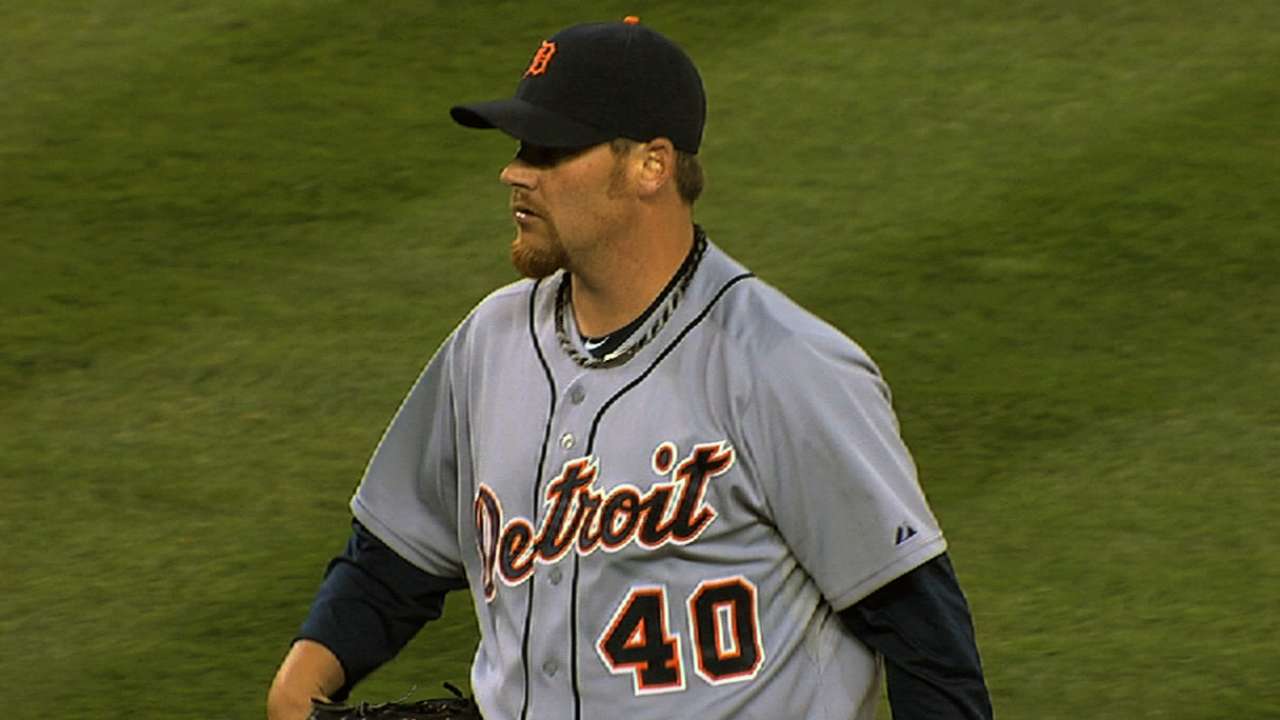 LAKELAND, Fla. -- Phil Coke is pitching this spring, he said, like he's trying to earn a job. He is not pitching, he cautioned, with something to prove.
Whether there's a difference might be semantics.
"No, I don't feel like I have anything to prove to myself or anybody else," he said after his latest outing Tuesday. "I'm out there looking to earn a spot on the team just like everybody else. I know it's a little different, the more time you get in here and there or whatever, but I don't think about those things. I go out there and I'm working on executing pitches."
For the most part, he felt like he did that Tuesday, striking out two of the three left-handed Blue Jays he faced. He allowed a two-out double to the right-hander, Steve Tolleson, and fell behind on a 3-0 count to the next hitter, Anthony Gose, then recovered to put three consecutive fastballs by him.
Coke's fastball sat at 90-91 mph, according to the Joker Marchant Stadium radar gun. His final pitch registered at 93 as Gose swung and missed.
"I don't think I usually see 90-91 until the end of spring," Coke said, "so the fact that it's there right now, I just need to get the arm strength up just a little bit more to do what I want."
Manager Brad Ausmus said Coke threw better than his previous two outings, when he gave up three runs on six hits to the Cardinals and faced a bases-loaded, no-out jam against the Mets.
"There are times where his breaking ball, I think, gets a little big and the hitter reads it," Ausmus said. "But if he can tighten that up, I think it can be a tremendous asset to him. He can make it kind of a shorter breaking ball."
That breaking ball continues to be a question mark. He threw it on six of his 18 pitches in the inning, but none of the six went for strikes. He had two against leadoff man Dan Johnson that seemed to be close, but didn't get the call from plate umpire Greg Gibson. He fell behind on breaking balls to Josh Thole and Gose.
"I'm not seeing sharp, but I'm being told that it's sharp," Coke said. "That could be for any number of reasons. Based on the way it was finishing, I was freezing the hitters. I don't know if they were spitting on it or couldn't pull the trigger on it."
Coke believes he has pitched better than his stats this spring would suggest.
"When I'm asked to do something, like if they want me to pound in on a certain side of the plate, then that's what I'm going to do," he said. "I'm not going to shy away from it. So if I'm getting beat up because I'm doing what I'm told to do, hey, I'm getting beat up."
Jason Beck is a reporter for MLB.com. Read Beck's Blog and follow him on Twitter @beckjason. This story was not subject to the approval of Major League Baseball or its clubs.