Iglesias out roughly a week with nagging shin splints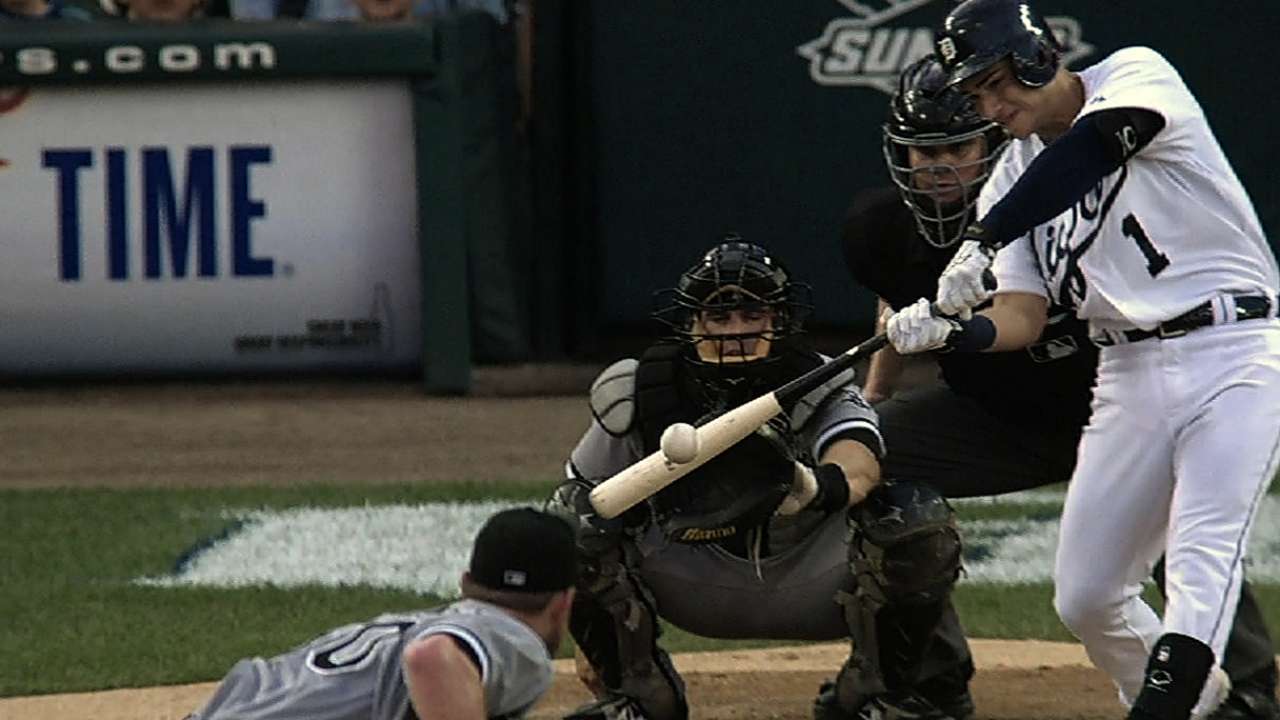 LAKELAND, Fla. -- The shin splints that have bothered Jose Iglesias off and on throughout his baseball career have flared up again. The Tigers' shortstop will be sidelined for a week while the team tries to reduce the inflammation and keep it from coming back.
Technically, it's being called a stress reaction in both shins, but it's more a difference of severity. It's painful enough that it would be an issue even in the regular season. With four weeks to go before Opening Day, the Tigers' medical staff wants to use the extra time to find a long-term solution.
"It's a stress reaction of the shins, left and right, probably from moving on the different surfaces," head athletic trainer Kevin Rand said Friday morning. "The guy works out all winter and then comes onto the softer ground. And we just want to nip it in the bud. We don't want it to become an issue.
"Last year he had it when he came to us, and obviously in the middle of the season it's a little more difficult [to treat]. So we're taking the opportunity in Spring Training to try to find the program that works best for him."
Manager Brad Ausmus estimated Iglesias won't play for "in the neighborhood of a week." He was scheduled to start Friday's split-squad game against the Phillies; Hernan Perez took his place.
Iglesias started at shortstop Thursday and played well against the Braves, going 1-for-2 with a walk and an infield single he ran out to beat a throw. While his foot speed seemed fine, his shins were aching. At that point, Iglesias was trying to play through the issue.
The Tigers were aware of it. A bone scan taken Wednesday and an MRI conducted Thursday came back negative for any structural damage. The way Iglesias looked while moving Thursday was a concern.
Detroit officials were aware of Iglesias' shin issues when he came over last July. He had them while he was with the Red Sox and came down with similar issues last September. The fact that he's having them again is not a shock to the medical staff, even though it's early.
"He had some episodes late in the season with us. We treated him the rest of the year," Rand said. "He also did some offseason rehab for this to try to put it behind him as well. But a lot of times, once you come back onto the baseball surface and you put the spikes back on, occasionally you have those issues. We just have to find a way to get him by that, get a program that he feels comfortable with."
That includes preventative exercises, treatment, even orthotics and footwear. Rand said they even looked at his gait in his run. The problem may not ever be completely healed, but just lessening the frequency and the severity of the episodes could make a big difference over the course of his career.
"We're looking to find the right combination from a treatment perspective, from an exercise perspective, to kind of put this behind him. And we have that opportunity," Rand said. "This is the time to do that, in Spring Training. We have plenty of time to get him ready, so that's what we're looking to do."
Jason Beck is a reporter for MLB.com. Read Beck's Blog and follow him on Twitter @beckjason. This story was not subject to the approval of Major League Baseball or its clubs.