Lennerton looks to make most of first camp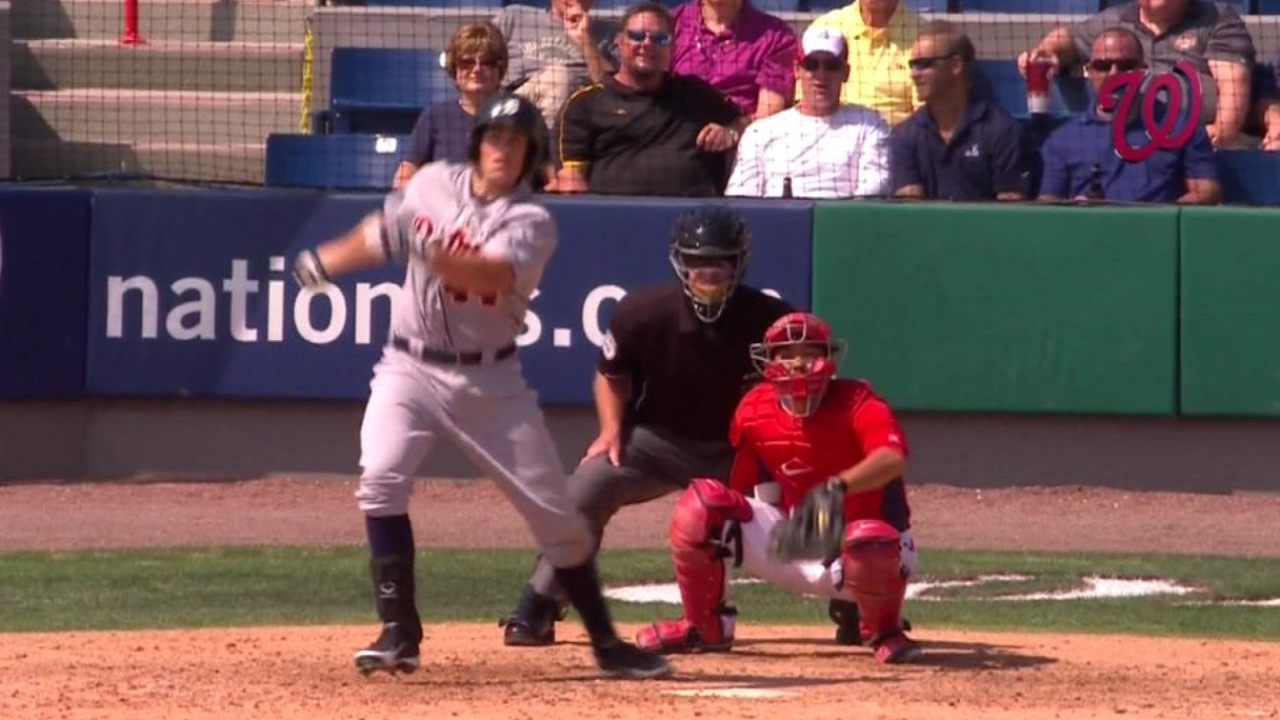 LAKELAND, Fla. -- Jordan Lennerton had just a couple of weeks between his last game of winter ball and his first day of Spring Training. But he has had years to think about making it to a Major League camp.
Now that he's here at last, he's not going to let the logjam ahead of him get the best of him.
"I'm not just here to go through the motions," Lennerton said. "I'm here to try to compete."
For a first baseman in the Tigers system, that's not an easy task. For a player who has fought his way to get to this point against nearly everyone's expectations, making it to his first big league camp at age 28, that's a mode of survival.
For a Tiger who thrived in winter ball, it's also not impossible.
Like Brennan Boesch and Andy Dirks in past years, Lennerton comes to camp with a hot bat, having spent most of his offseason tearing up winter ball. Except for the past two weeks of rest, and a brief break for the holidays, Lennerton has seen live pitching since early November.
For the most part, he was pounding it. His .340 average, 13 doubles, five home runs and 21 RBIs earned him MVP honors in the Puerto Rican League. He then made the jump to the Dominican League and helped get Leones del Escogido to within a game of a championship.
Add in a full season last summer at Triple-A Toledo, including a spot in the All-Star Futures Game, and Lennerton played about 200 games in a full-year stretch. Asked if he had to fight off fatigue, he shook his head.
"I love to play," Lennerton said. "That's what I live to do. I don't find it fatiguing. When you enjoy playing this game, you find a way to get yourself going."
That attitude carries him not only through a long stretch of games, but a cluttered path through Spring Training. Lennerton goes from looking up at Prince Fielder to looking up at Miguel Cabrera at first base in Detroit. He has the advantage of being a left-handed hitter on a team that could use one in late-game situations, but also the downside of not playing another position, limiting his versatility in a bench role.
The one thing he can do to help his cause is hit. He did enough of that over the past year that the Tigers chose to put him on the 40-man roster rather than lose him in the Rule 5 Draft. He did enough in winter ball, fighting off a heavy dose of cutters from pitchers in Puerto Rico, that he shouldn't have much trouble finding his timing at the plate. When hitters step into the box against pitchers Tuesday morning, no Tiger in camp not named Cabrera should feel more comfortable.
Even if he can't make an Opening Day roster, he can make the kind of impression that earns him a look if the Tigers have an early-season injury. It's the way Boesch and Dirks found their way to the big leagues in 2010 and 2011.
"It wouldn't be the first time," said Lennerton. "That's what I'm striving for."
Jason Beck is a reporter for MLB.com. Read Beck's Blog and follow him on Twitter @beckjason. This story was not subject to the approval of Major League Baseball or its clubs.