Miggy moving back to first; Castellanos to man third
Miggy moving back to first; Castellanos to man third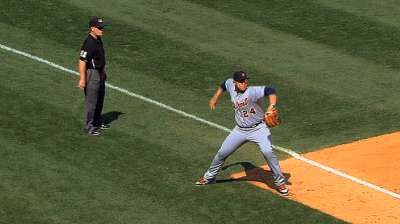 DETROIT -- Who's on first? Miguel Cabrera. Finally. It's official.
The long-expected shift in the Tigers' infield was set on Wednesday. Cabrera, who moved to third base two years ago when Prince Fielder signed, will move back to first base next season. Nick Castellanos, the Tigers' top prospect who moved from third base to the outfield in the middle of the 2012 season, will return to third.
Team president/general manager Dave Dombrowski, who had held off on finalizing the move for the past couple weeks since trading Fielder to Texas, confirmed it Wednesday.
"We're looking at Nick Castellanos to be our third baseman," Dombrowski said. "Miguel Cabrera's going to play first base for us. We've discussed that with him. I guess we can make that official.
"We talked to Miguel. He's happy to go to first. 'I'm a team player. I'll do whatever's necessary to help the ballclub.'"
The delay, Dombrowski said, was in communication. Cabrera was quoted in a Venezuelan paper saying he told the Tigers he was ready to move back to first base. Dombrowski confirmed that conversation took place just before Thanksgiving break, but added that manager Brad Ausmus wanted to talk to Castellanos as well, which waited until after the holiday.
"We finally reached [Cabrera]. It took us some time," Dombrowski said. "He was happy to do it. Then we went into Thanksgiving break. Brad wanted to talk to Castellanos about moving to third base, which he just did today, and Castellanos had been taking ground balls since the day the trade was made. We wanted to do all those things ourselves, properly."
Castellanos, a shortstop in high school, spent the first season and a half of his pro career at third. His time there drew a variety of evaluations from scouts. Dombrowski called him a "natural infielder" and said he'll improve the infield defense, but also tempered expectations.
"He's solid. He's average," Dombrowski said. "I think he's a guy that his hands are fine, his arm is fine, he's athletic, he'll move around at third base decently, but he's not a Gold Glove third baseman. I think he projects to be an average third baseman that can hit, and I'm willing to live with the defense that may not be Gold Glove for the expense of the bat."
Jason Beck is a reporter for MLB.com. Read Beck's Blog and follow him on Twitter @beckjason. This story was not subject to the approval of Major League Baseball or its clubs.