Leyland: Cabrera's injury a factor in play at plate
Leyland: Cabrera's injury a factor in play at plate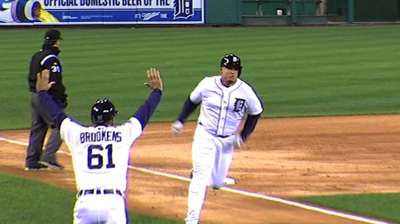 BOSTON -- Should Miguel Cabrera have stopped, or was he right to keep going?
Tigers manager Jim Leyland was still answering that question a day after the mix-up between Cabrera and third-base coach Tom Brookens led to an easy third out at home plate and a first-inning rally ended without a run.
Leyland's point Friday was what many surmised Thursday night: A healthy Cabrera probably would have stopped when Brookens changed signs. Cabrera's groin injury removed the possibility.
It's not just about how fast Cabrera can run at this point, but also how quickly he can stop.
"I don't really blame Brookens," Leyland said. "If Miguel Cabrera were 100 percent, Tom Brookens stopped him in plenty of time. But where I think he possibly made the mistake was, he probably knew right off the bat when the ball was hit, because of Miggy's condition, he could not score. So I was saying maybe he shouldn't have been waving as long as he was.
"If he was normal, then he stopped him in plenty of time, there's no question about that. I heard some people commenting on that on the television. But under the circumstances, he probably shouldn't have waved as long."
Brookens agreed with that argument after the Tigers' 4-3 loss in Game 5 of the American League Championship Series -- that a healthy Cabrera likely would've been able to stop.
Instead, Leyland said, "We pretty much know right now with Miggy's condition that it's one base at a time."
Jason Beck is a reporter for MLB.com. Read Beck's Blog and follow him on Twitter @beckjason. Bobby Nightengale is an associate reporter for MLB.com. This story was not subject to the approval of Major League Baseball or its clubs.