Miggy bats second, Prince third in Game 4
Miggy bats second, Prince third in Game 4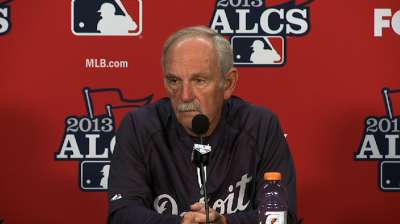 DETROIT -- Tigers manager Jim Leyland thought about sitting Austin Jackson for Game 4 of the American League Championship Series. He thought about doing a lot of different things with his struggling lineup.
"I was laying on my couch watching the Cardinal game [Tuesday night]," Leyland said, "and I was thinking and I had a pad and pencil and I said I've got to do something."
In the end, Leyland moved a lot of hitters into spots where they haven't hit in a while, but his changes revolved around one idea: Jackson, 3-for-33 with 18 strikeouts this postseason, needed to get out of the leadoff spot. He didn't get out of the lineup, but he batted eighth.
"Basically, I just moved everybody up," Leyland said.
Torii Hunter moved up to leadoff for the first time since July 4, 1999, when he was a 23-year-old rookie for the Minnesota Twins. His success against Red Sox Game 4 starter Jake Peavy, 7-for-16 with a home run lifetime, played a major role in moving him up rather than bringing up someone from the bottom third of the order. So did the fact that so few of Detroit's hitters are actually hitting well at this point.
Like Hunter, Miguel Cabrera's move up marked his first start in the second spot since his first full season in the big leagues. He filled in for Luis Castillo batting second in the Marlins' lineup on June 27-28, 2004.
Prince Fielder batted third four times this season while Cabrera was out with injuries.
It might be for one game, or it could be for a longer stretch. This, Leyland said, was his best lineup for this particular game. But for him, it's a significant change from the batting order he has trotted out all season. It was significant enough, Leyland said, that he had hitting coach Lloyd McClendon call players and let them know ahead of time so that they wouldn't be shocked when they arrived at Comerica Park on Wednesday afternoon.
"You can call it whatever you want," Leyland said. "I don't give a care what anybody says. If they want to say we're panicking, say we're panicking. I don't give a [care]. We had to try something different."
Said Hunter: "For me, I won't change my approach too much. You're only [batting] leadoff in beginning of the game, and then after that, you're just up there. But in the beginning of the game, just try to allow my guys hitting behind me to see all of the pitches, and try to figure out what Peavy has to offer in the beginning of the game."
At the very least, it's an adjustment from his previous times leading off.
"In 1999, a 23-year-old Torii Hunter wouldn't even take a pitch," Hunter said.
"In the first inning, we'll have Hunter, who's had some success against Peavy, and follow it up with two guys that could hit a ball out of the ballpark," Leyland said.
Leyland said he kept his big three hitters -- Cabrera, Fielder and Victor Martinez -- in the same order, rather than moving Martinez up further, in part for baserunning and power-hitting purposes. It's the same reason he used to hit Magglio Ordonez ahead of Cabrera a few years ago.
"The only reason I did it the way I did it is if I've got Martinez and Cabrera back to back, it's going to be hard for Prince to knock in a run," Leyland said. "So I put Prince ahead of Martinez, because Prince can score a run if Martinez can knock him in. He can run a little bit, so he might be able to score him. But if you put Prince behind both of those guys, it'll be hard to get an RBI unless you can knock [the ball] out of the ballpark."
The only Tiger who didn't move up in the order to make room for Jackson was shortstop Jose Iglesias, who remained in the ninth spot. Essentially, it put two hitters at the bottom of the order who were starting for defensive purposes.
Leyland had said Wednesday he'd be starting Iglesias at shortstop behind starting pitcher Doug Fister, whose ground-ball ratio was the third highest among AL pitchers in the regular season. His decision on whether to play Jackson at all came down to Fister's tendencies as a contact pitcher.
"I did not want to play Donnie Kelly in center alongside Jhonny Peralta," Leyland said. "I wanted to play my regular center fielder with Fister pitching."
Jackson's defense has remained relatively solid throughout this slump. Whether the move down sparks his offense is another question. At this point, Leyland figured, with the scrutiny surrounding Jackson, it can't hurt.
"He's on the big stage. He leads off every game. He's struck out a lot of those times," Leyland said. "The focus is on him leading off for the Tigers, so I tried to get him away from it. That's all. If I can get him down there and maybe relax him a little bit, maybe he'll come up with two men on and get a hit.
"He got arguably the biggest hit of the postseason so far, which was a broken-bat single [for the go-ahead RBI in Game 4 of the AL Division Series]. I don't know, he might strike out four times tonight, but I had to try something."
For Jackson, it marked just his third career start outside the leadoff spot, and his first since May 1, 2011.
"For one time, I agree with the media," said Leyland. "I had to try something. I didn't do it for the media's purposes. I did it because it made sense."
Jason Beck is a reporter for MLB.com. Read Beck's Blog and follow him on Twitter @beckjason. This story was not subject to the approval of Major League Baseball or its clubs.