Leyland shoulders responsibility for Ortiz slam
Leyland shoulders responsibility for Ortiz slam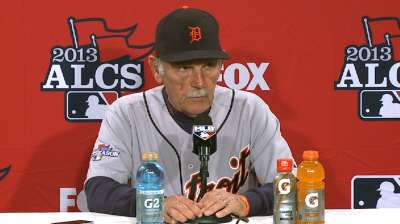 DETROIT -- Manager Jim Leyland admitted that he made a "mistake" on Sunday night after he brought in closer Joaquin Benoit to face Red Sox slugger David Ortiz in the eighth inning of Game 2 of the American League Championship Series at Fenway Park.
Benoit, trying to protect a four-run lead, entered the game with two outs and the bases loaded. Leyland said that he should have specifically reminded Benoit that it would have been "OK" to walk Ortiz, even if it meant forcing in a run.
"Last night I made a mistake that I take full responsibility for," Leyland said on Monday before the Tigers worked out at Comerica Park in advance of Tuesday's Game 3, at 4 p.m. ET on FOX. "I should have just reminded him that we didn't want Ortiz to really beat us. He tried to make a great pitch. He tried to get it low and away out of the strike zone, but he didn't get it there. We were going to try to get him to swing at a ball if we could. And I should have reminded him about that, and I did not."
Benoit threw a changeup that he wanted low and away, but the pitch got too much of the plate, and Ortiz hit a grand slam to tie the score before the Red Sox walked off with a 6-5 win in the ninth.
"We talked before the series about that. David is one of those guys [who was] born for those magic moments, we know that," Leyland said. "We were trying to avoid that, and Benny tried to make the pitch, he just didn't get it there. He just didn't execute the pitch.
"He attacks the hitters. He tried to attack him with a ball that was going to be out of the strike zone. and it was one of those changeups that didn't go down and away, it just stayed there."
Benoit said that he won't have any problem putting the blown save behind him.
"Do you remember what happened last night?" Benoit said. "I don't know. It's a part of baseball. You win and you lose. Tough times come and go. It's not my first rodeo.
"Last night I tried to throw a pitch to make him chase. I'm not perfect. I tried to make him swing and miss. I threw it down the middle, he swung, and he hit it good."
This is Benoit's first season as a closer, and Sunday's blown save was only his third. He was 24-for-26 in save opportunities during the regular season and is now 3-for-4 in the playoffs.
Leyland is not concerned about Benoit bouncing back from this one.
"No, not at all," Leyland said. "No, I think that, first of all, it was a tough save. In reality, I've been asking a lot out of him, probably a little too much in a couple of situations. He's doing fine. It's just not that easy. … That's why these teams are in the postseason, it gets a little bit tougher."
Jason Beck, T.R. Sullivan and Alden Gonzalez are reporters for MLB.com. Bobby Nightengale is an associate reporter for MLB.com. This story was not subject to the approval of Major League Baseball or its clubs.