With No. 3 seed wrapped up, Martinez rests
With No. 3 seed wrapped up, Martinez rests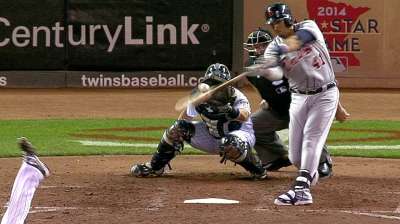 MIAMI -- Once upon a time, this season-ending series against the Marlins was supposed to be Victor Martinez's time to shine behind the plate. His two games catching against the Mets in August were a preparation to get his bat in the lineup in what could have been the finishing games of a playoff race against the Marlins.
Now that the Tigers have their playoff spot and their seeding wrapped up, this is more like a weekend for Martinez to rest.
"I have a plan to pinch-hit Victor," manager Jim Leyland said. "In my conversation with Victor, that's what he wants. He feels like he's good. He doesn't need a lot. Just pinch-hitting would be sufficient, in his opinion. I'm not sure if that's accurate or not, but that's what he would like to do, and so that's what it looks like we'll do.
"Had we not clinched, he probably would've caught last night. Since we clinched, I don't think it makes any sense to risk him getting hurt and going to the playoffs without one of the best hitters and RBI guys in the league. I mean, he's already proven he can sit for a year and a half and catch a game and not have any issues, so I'm not worried about that."
Martinez pinch-hit in Friday night's opener, but did not stay in the game, even though he could have slotted in at first base. If he repeats that plan all weekend, he'll end up with his fewest at-bats in a series this season since he sat in May's two-game series in Washington. But the hope is that it'll be enough at-bats for him to keep his timing for next weekend, when the Tigers open their Division Series.
"I just don't think it's smart to take a chance," Leyland said. "Bats are hard to come by. We've got one of the best. If I lost him catching in a game where we've already clinched … "
Jason Beck is a reporter for MLB.com. Read Beck's Blog and follow him on Twitter @beckjason. This story was not subject to the approval of Major League Baseball or its clubs.