Porcello getting acclimated to Tigers' bullpen
Porcello getting acclimated to Tigers' bullpen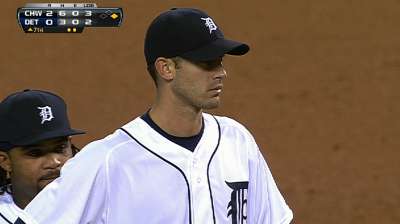 MIAMI -- Rick Porcello's scratch from Friday's start against the Marlins was his introduction to the bullpen for the postseason. Like Jhonny Peralta in left field, the Tigers will use the weekend to get Porcello used to entering games in relief.
He has done it before, from a couple relief appearances last postseason to a game finished in Oakland this past April. This time, however, they want to prep him.
"I'd like to give him a couple days during this series to come in out of the bullpen, just to get him acclimated to it, depending on how it goes," manager Jim Leyland said. "He has done it before, a little, and that's really not the reason [we moved him]. He's just the guy that we all agreed on would go to the bullpen. He's well aware of it. He's all for it. He's very supportive of it, which I appreciate."
The big change Porcello cited is being in top form from the first pitch.
"As a starter, you can kind of feel it out in the first inning," Porcello said, "but when you come out of the 'pen you have to come out throwing strikes and quality strikes."
He does believe the past experience will help him.
"I am somewhat familiar with how I have to get myself ready and loosened up for a game," he said.
Porcello's scratch likely will cost him a chance at a third 14-win season. It also halts the momentum of what has been a stellar stretch for him over his last three starts: 21 2/3 innings, 18 hits, four earned runs, three walks, 24 strikeouts. He pitched a complete-game seven-hitter in Chicago on Sept. 10, struck out 10 Mariners over six innings of one-run ball Sept. 16, then took a no-decision against the White Sox last Saturday for 6 2/3 innings of two-run ball with nine strikeouts.
On many pitching staffs, it's the kind of run that would send a starter into a postseason rotation with momentum. The Tigers, however, have a talented enough rotation that somebody had to be the odd man out.
The Tigers do not have a rotation order yet for next week's Division Series, and Leyland warned he probably won't have that anytime soon. With four days off between Sunday's regular-season finale and Friday's playoff opener, it could come down to the final day or two. All that's known about the order is that Porcello won't be a part of it.
"In this situation, I can come in and help the team out of the bullpen, and I'm excited about that," he said.
Jason Beck is a reporter for MLB.com. Read Beck's Blog and follow him on Twitter @beckjason. This story was not subject to the approval of Major League Baseball or its clubs.