Rondon, Coke injuries may affect bullpen makeup
Rondon, Coke injuries may affect bullpen makeup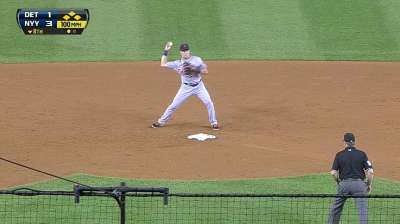 DETROIT -- While Bruce Rondon spent Saturday playing catch to keep his arm fresh for a scheduled mound session Sunday morning, Phil Coke spent one more day resting his ailing arm in hopes of being able to throw pain-free on Sunday.
What happens with both of those relievers could play a major factor in how Tigers manager Jim Leyland fills out his bullpen for the postseason roster.
Rondon hasn't pitched in a game since Sept. 2 in Boston, when he felt some tenderness in his throwing elbow following a 103-mph fastball. He has thrown a few times this week, but Sunday's session is expected to be at his regular strength.
"Hopefully, if everything goes well, he'll be able to pitch on Tuesday," Leyland said.
If it doesn't, they'll have some decisions to make. A slow recovery isn't necessarily a sign of something more serious. Leyland downplayed that possibility, though he said he's optimistic about it.
"I know this: It's not a scare," Leyland cautioned, "because the medical people have been real calm about it. He's been checked out. This is no red flag."
Whether the flexor mass soreness for Coke is a sign of something remains to be seen. He had one more day of rest and medication Saturday in anticipation of a throwing session Sunday morning.
"If everything's fine tomorrow, he should be good to go, I would think," Leyland said.
How much of a role the injury played in Coke's struggles is another question. Leyland has spent the past several weeks trying to get him going in time for the stretch run and potential matchups with lefties, to the point that Coke faced fewer than three batters in six of his last nine outings. In both of his outings this week, however, he ended up being lifted with the bases loaded.
If Coke is healthy, he's expected to have a spot in the Tigers bullpen as a second lefty behind Drew Smyly. If Rondon is healthy and can get enough work next week, he seems poised to grab a potentially big middle-relief role behind setup man Jose Veras and closer Joaquin Benoit. If Rondon or Coke aren't ready, the Tigers likely have some shuffling to do, which could affect everyone from lefty Jose Alvarez to strikeout specialist Al Alburquerque to maybe Luke Putkonen.
Jason Beck is a reporter for MLB.com. Read Beck's Blog and follow him on Twitter @beckjason. This story was not subject to the approval of Major League Baseball or its clubs.