Iglesias listed as day to day with bruised hand
Iglesias listed as day to day with bruised hand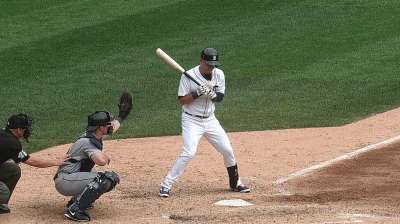 DETROIT -- Tigers manager Jim Leyland saw the 95-mph fastball from Seattle reliever Tom Wilhelmsen hit Jose Iglesias' left hand and thought the worst.
"To be honest with you, I thought it was probably broken, because it didn't sound good," Leyland said later.
He wasn't the only one.
"I felt that way, too," Iglesias said. "It was 95 mph in the hands. But I got lucky."
The relief over the X-ray results was still evident from both of them after Thursday's win over the Mariners. Instead of a fractured hand and a season over, Iglesias is listed as day to day with a left hand contusion.
Leyland doesn't expect to have Iglesias for Friday's series opener against the White Sox, and he isn't sure about the next few days after that. But he at least doesn't have to make alternate plans at shortstop for October.
"The only thing I'm concerned about is a broken hand and missing the rest of the season," Iglesias said. "It's not broken, that's a good thing and I'm happy about it."
Wilhelmsen's sixth-inning fastball busted inside on Iglesias, sending him to the ground in obvious pain. The Mariners' former closer has been dealing with command woes for much of the year, which led to a summer stint at Triple-A Tacoma.
The ball hit Iglesias at the base of his hand. It didn't catch the wrist, but it was still painful.
"When you get hit in a spot like this one, it's bad," he said.
Iglesias got back on his feet after a quick examination from head athletic trainer Kevin Rand, but promptly left the game and headed to the Tigers clubhouse for further examination, including the X-ray exam at Comerica Park.
"Whenever you get hit in the hand, you're always worried," teammate Torii Hunter said, "because you have so many bones, little bones, and just a small fracture can put you out. So we're glad we got the good news that nothing's broken, nothing fractured, and we'll have him in a couple days."
It was the 11th pitch to hit Iglesias in 105 games this year, the fourth-highest hit-by-pitch total among American League players. That matches his total from four seasons in the minor leagues, four each in 2010 and 2011. He suffered a broken hand in 2010, but he said that pitch hit him in a different part of it.
"It's part of the game," he said.
The Tigers have enjoyed a defensive resurgence in their middle infield since Iglesias took over at shortstop six weeks ago for suspended Jhonny Peralta. If Iglesias had a significant injury, the prospect of Peralta returning from his suspension next week to play a major role on the Tigers would have taken on new meaning.
The Tigers have already said Peralta will not get his old shortstop job back from Iglesias. They've had Peralta taking fly balls in left field in preparation for potential utility work or spot duty as a right-handed bat. His 50-game suspension for his role in the Biogenesis scandal ends in a week.
On Thursday, Ramon Santiago moved over from third base to replace Iglesias at short. Don Kelly pinch-ran for Iglesias and entered the game at third base.
Bobby Nightengale is an associate reporter for MLB.com. Jason Beck is a reporter for MLB.com. Read Beck's Blog and follow him on Twitter @beckjason. This story was not subject to the approval of Major League Baseball or its clubs.