Martinez makes rare start at catcher for Tigers
Martinez makes rare start at catcher for Tigers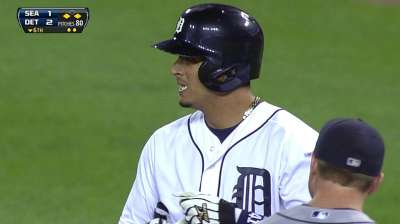 DETROIT -- Victor Martinez made his third start at catcher this season on Thursday, his first time behind the plate in an American League park since 2011.
Martinez caught two games against the Mets in August, when the Tigers didn't have the luxury of a designated hitter due to National League rules. Miguel Cabrera took over as the DH on Thursday, while Ramon Santiago played third.
"I wanted to keep Miggy off his feet for a day," manager Jim Leyland said. "I wanted to keep Victor in the lineup, and I thought it would be a good day, [because] Alex [Avila] wasn't going to play. It gives us good defense at third with Santiago playing, and with Miggy [at DH], I want to keep Victor in there."
The Tigers will end the regular season with a three-game road series against the Marlins and Martinez may catch again in that series.
"I think it's totally unfair for an American League team to finish in a National League city for the last three games of the season," Leyland said. "I don't mind Interleague play at the end of the season, if that's what you want to do, that's fine. But in my opinion, if you're going to have an American League team play a National League team the last three days of the season, it should be in an American League park."
If Detroit makes the playoffs, and Martinez doesn't start any of the games in Miami, he could potentially go a week without playing in a full game. There is a four-day break between the end of the regular season and the playoffs for division winners.
"I don't try to open up a can of worms, or upset any of the people who make the schedule or anything like that, but it's ridiculous, plain and simple," Leyland said.
Bobby Nightengale is an associate reporter for MLB.com. Jason Beck is a reporter for MLB.com. Read Beck's Blog and follow him on Twitter @beckjason. This story was not subject to the approval of Major League Baseball or its clubs.