Infante, Hunter get breather prior to day game
Infante, Hunter get breather prior to day game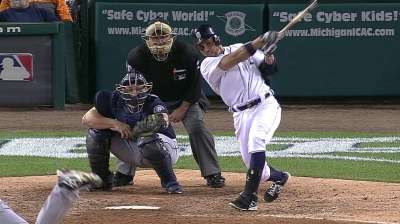 DETROIT -- Both Omar Infante and Torii Hunter were held out of Wednesday's starting lineup against the Mariners as manager Jim Leyland hopes to keep them fresh for Thursday's day game.
Hernan Perez replaced Infante at second base, while Don Kelly started in right field. Although Infante is battling a sore quad, Leyland said Infante was available to play.
"Omar Infante is fine," Leyland said. "His quad was a little tight last night and I'm not going to take any chances, because I want him playing tomorrow against the lefty."
It was a scheduled day off for Hunter, but it will give Don Kelly his second straight start after he homered in Tuesday's game.
Matt Tuiasosopo was in left field, making his sixth start of the season against a right-handed pitcher. Mariners' starter Hisashi Iwakuma has held left-handed batters to a .217 batting average and 10 home runs this season, while righties are batting .235 with 15 home runs.
"[Iwakuma's] split dives away from the left-handers and the split comes in to the right-handers," Leyland said. "That doesn't mean they're going to hit it. He's pretty good; this guy's a very good pitcher. We've got our hands full."
Bobby Nightengale is an associate reporter for MLB.com. This story was not subject to the approval of Major League Baseball or its clubs.