Peralta set to play in instructional league games
Peralta set to play in instructional league games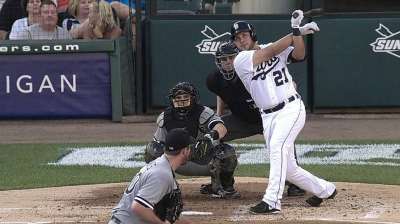 DETROIT -- Jhonny Peralta will make the next step for a possible return to the Tigers, as he nears the end of his 50-game suspension, when he reports to the instructional league on Wednesday.
Workouts begin on Thursday at the Tigers' Spring Training facility in Lakeland, Fla., with games beginning on Sept. 23. Peralta will be playing almost exclusively in left field, a position he has been working on with outfield coach Tom Brookens for nearly a week.
After the Tigers traded for shortstop Jose Iglesias, the team hopes he may be able to fill the need to find a reliable right-handed bat that can play left field to face left-handed pitching. Matt Tuiasosopo and No. 1 prospect Nick Castellanos have split time in the spot this month with mixed results.
Peralta was hitting .347 with four home runs and 16 RBIs in 61 games before his suspension. Though he was limited to workouts in the Dominican Republic, his bat remains strong.
"The early signs are more than positive, but we're talking about coaches' [batting practice]," manager Jim Leyland said. "He's swinging the bat really, really well in BP, but once again, I emphasize that is coaches' BP. But that is a lot of games to miss and expect to come back sharp after playing just a few games."
In the instructional league, Peralta will be facing Class A level pitchers that are experimenting with new pitches or extending their seasons to gain more seasoning.
"It's going to be a world of difference," Leyland said. "Instructional league, normally you're going to see a bunch of top-notch young prospects that throw hard, wild."
Leyland said he assumes Peralta will rejoin the Tigers once his suspension ends before the team's final regular-season series in Miami on Sept. 27, but it's unknown whether he would be a part the team's potential playoff roster.
"I don't know if you want to call it a long shot, if you want call it 50-50, I have no idea," Leyland said. "[President/general manager Dave Dombrowski] will make a decision at some point."
Jason Beck is a reporter for MLB.com. Read Beck's Blog and follow him on Twitter @beckjason. Bobby Nightengale is an associate reporter for MLB.com. This story was not subject to the approval of Major League Baseball or its clubs.