Iglesias gets Sunday off to rest aching legs
Iglesias gets Sunday off to rest aching legs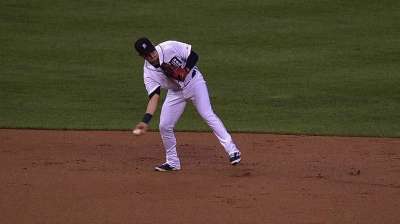 DETROIT -- Shortstop Jose Iglesias wasn't in the lineup against the Royals on Sunday, as he got a day off to rest shin splints in both legs.
Iglesias was forced out of a game early and missed two games last week due to the ailment. Ramon Santiago filled in for Iglesias at shortstop.
"[Our trainers] say there's things when they just ache and stuff. It was probably something that is not really going to get better until the wintertime," manager Jim Leyland said. "I played an extra left-handed hitter today to give him a little blow on his legs."
Although Iglesias may be dealing with some soreness in his legs, it hasn't affected his range in the field or on the basepaths, as he beat out a bunt single in the sixth inning on Saturday.
"I don't really understand when a guy has shin splints, I'm talking about from a medical standpoint, how a guy can run that fast," Leyland said. "But [the trainers] say he can."
Bobby Nightengale is an associate reporter for MLB.com. This story was not subject to the approval of Major League Baseball or its clubs.