Miggy working on his craft with extra BP
Miggy working on his craft with extra BP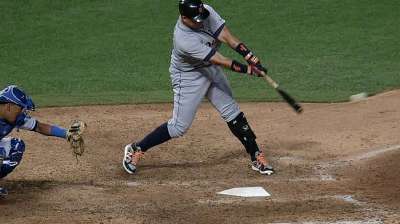 DETROIT -- Miguel Cabrera has struggled in September, batting .136 with three singles and three RBIs in seven games. Prior to Friday night's game against the Royals, the Tigers slugger took extra batting practice, which is a good sign as he battles a groin injury.
Cabrera likely won't be 100 percent for the rest of the season after sustaining multiple injuries, but he says his groin has been the source of his pain lately. However, that won't stop him from playing.
"[In the] offseason I can rest," Cabrera said. "Right now, I've got to work."
Despite his recent troubles at the plate, there aren't too many people worried that Cabrera will turn it around.
"I think those four or five days off, his timing was off just a hair, but I saw signs in Chicago that it's close to right there," manager Jim Leyland said.
In his quest for a second Triple Crown, Cabrera leads the American League with a .349 batting average and 133 RBIs. He trails Baltimore's Chris Davis by six home runs (49 to 43).
Bobby Nightengale is an associate reporter for MLB.com. This story was not subject to the approval of Major League Baseball or its clubs.