Castellanos excited for first MLB start in KC
Castellanos excited for first MLB start in KC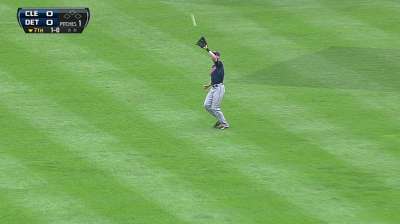 KANSAS CITY -- When Nick Castellanos got the word from Tigers manager Jim Leyland that he'll be making his first Major League start in left field on Saturday night against the Royals, it reinforced the idea that Kauffman Stadium is a special place for him.
Castellanos already had fond memories here because of his experience in the 2012 Futures Game, when he played before a sellout crowd, hit an opposite-field homer to right-center and was named the game's MVP after collecting three hits and three RBIs. Now, he's getting the opportunity to make his first Tigers start in the same ballpark.
"I got to play before 40,000 people, the most I've ever played in front of," Castellanos said. "That crowd was a tribute to the fans of Kansas City and showed how excited they were for that entire All-Star weekend event."
Castellanos was the designated hitter in that Futures Game and didn't have the opportunity to track balls in the outfield. He took fly balls both in early and regular batting practice on Friday so he could get comfortable with seeing the ball come off the bat in Kauffman Stadium.
With left-hander Danny Duffy starting for Kansas City on Saturday and Matt Tuiasosopo fighting it lately at the plate, Leyland felt the time is right for Castellanos' first starting assignment.
Castellanos hit .276 with 37 doubles, 17 homers and 74 RBIs for Triple-A Toledo this year in 133 games. He made his Major League debut last Sunday, entering as a pinch-hitter in the seventh inning and going 0-for-2 in a 4-0 loss to the Indians at Comerica Park. He also saw action in left field in Wednesday's 20-4 loss to the Red Sox, but did not bat.
"Tuiasosopo is struggling a little bit, so I'm going to throw [Castellanos] out there," Leyland said. "This guy has been playing a lot and getting a lot of at-bats. I'm going to run him out there and see what he does. We've got to get something from the right-handed side in that [left field] spot. We'll see what the kid looks like."
Beginning with Saturday's game, the Tigers are expected to face four left-handers over a five-game span.
Robert Falkoff is a contributor to MLB.com. This story was not subject to the approval of Major League Baseball or its clubs.