Tuiasosopo takes grounders in case of need at third
Tuiasosopo takes grounders in case of need at third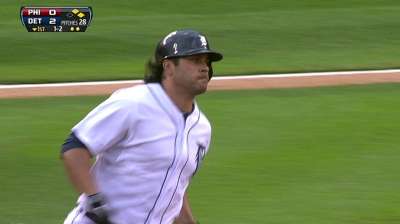 DETROIT -- Long before Matt Tuiasosopo emerged as a power-hitting outfielder in the Tigers' anti-lefty lineup, he was a corner infielder who played third base in Spring Training while Miguel Cabrera was at the World Baseball Classic. His summer made that easy to forget, but with Cabrera dealing with abdominal issues again, it's becoming fresh in Tigers' minds.
When the Tigers began batting practice Friday afternoon, Tuiasosopo took ground balls at the hot corner, charging slow rollers and ranging to either side on regular grounders. It was the most work he has had at third since Spring Training, he said.
"I haven't taken some in a while," Tuiasosopo said. "I just want to be prepared. Especially with how Miggy's feeling, you never know."
Manager Jim Leyland once called Tuiasosopo an emergency option at third base, but that was when Cabrera was healthy. With Cabrera now hobbled, Leyland is openly considering giving Tuiasosopo some playing time there, as he did in the late innings Thursday, once Cabrera had left and Don Kelly had been lifted for a pinch-hitter.
"We'll do what we have to do, that's all," Leyland said.
Tuiasosopo has played every infield position at least once in his Major League career, including two starts at shortstop in Seattle three years ago and five starts at second base a year before that. He has no problem moving back.
"I came up as an infielder. I'm comfortable playing in the infield," he said. "That's what I'd done my whole career until this year."
Jason Beck is a reporter for MLB.com. Read Beck's Blog and follow him on Twitter @beckjason. This story was not subject to the approval of Major League Baseball or its clubs.