Miggy exits second straight game early with injury
Miggy exits second straight game early with injury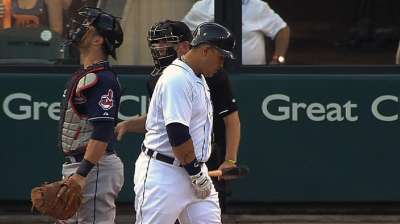 DETROIT -- Tigers manager Jim Leyland knew Miguel Cabrera wanted to play against Cleveland, despite his abdominal strain. But after Cabrera lasted just two innings of Friday's opener before his second consecutive early exit, Leyland and the Tigers might be weighing whether to sit him to get him right.
"I don't have any idea whatsoever what the status is," Leyland said after Friday's rain-shortened 7-2 win at Comerica Park. "All I can tell you is normally when you pull a guy out of a game one night, he probably doesn't play the next day. But I don't have any idea. I just have to play it by ear and see what happens."
Cabrera is listed as day to day with abdominal irritation, the continuation of an injury that has bothered him to varying degrees since early July. He has been playing through it, and playing at a star level, but his exits the past two days might force the Tigers to reconsider.
Matt Tuiasosopo, who played third base in Spring Training while Cabrera was in the World Baseball Classic, took more ground balls at third base during batting practice Friday than he has all season. Leyland, meanwhile, said before the game that he might use Cabrera at designated hitter for a game and put Victor Martinez at catcher, where he played well for two games against the Mets last week.
The Tigers will be able to call up reinforcements on Sunday, when 25-man rosters expands and anyone on the 40-man roster can be active. For that reason, a trip to the disabled list -- which would cost them at least 15 days of his services -- is highly unlikely.
Cabrera said after Thursday's game that he planned on starting Friday. True to his word, he was back in the Tigers' starting lineup, batting third and playing third base.
Leyland said before the game that he checked with Cabrera on Friday afternoon before writing him into the starting lineup, and Cabrera was all smiles. He grew suspicious watching Cabrera swing during batting practice, though.
"He wasn't swinging real well," Leyland said. "I could tell that he was not really turning it loose."
Cabrera struck out swinging to end the first inning and did not have a play to make in the field in either of the first two frames. He went after a Lonnie Chisenhall pop fly in foul territory to end the second inning, but shortstop Jose Iglesias ran it down and caught it.
When the Tigers took the field for the top of the third, Cabrera didn't come out of the dugout. Don Kelly, who started the game in left field, replaced Cabrera at third, with Andy Dirks entering the game in left.
"When I saw the first at-bat, I knew that what I was seeing in BP was probably right. So I got him out of there," Leyland said.
That's the first time anyone has mentioned Cabrera's injury hampering his swing. On Thursday, it was an acceleration around first base, trying to stretch a fifth-inning single into a double, that led to Cabrera aggravating the injury. He left that game against Oakland after five innings.
"All I can say is I don't feel 100 percent," said Cabrera, who told reporters the injury is not believed to be a hernia.
The Tigers' win gave them a 7 1/2-game lead on Cleveland in the American League Central. A larger lead with 25 games left to play after the weekend series might be enough to start looking into rest for the slugger. The team medical staff told Leyland that Cabrera can't worsen the injury by playing through it, but at the very least, his recent issues clearly suggest he isn't getting any better, either.
"If he needs a day, he'll get it," Leyland said before the game. "If he needs two days or three days, whenever it is, big series, little series, whatever you want to call it."
Jason Beck is a reporter for MLB.com. Read Beck's Blog and follow him on Twitter @beckjason. This story was not subject to the approval of Major League Baseball or its clubs.