With turnaround, Martinez nearing .300 season
With turnaround, Martinez nearing .300 season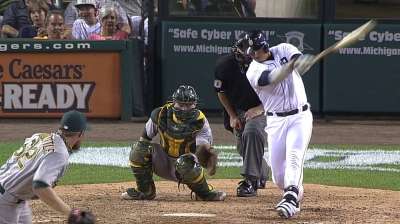 DETROIT -- The batting average says a lot about Victor Martinez's season. He was hitting .225 on June 28, .270 on July 28, and is now -- after going 3-for-5 in Thursday's 7-6 win over the A's -- hitting .297. He's a few hits away from turning what looked like a disastrous year that showed his age into his fourth consecutive .300 season, and making a legitimate argument for AL Comeback Player of the Year consideration alongside Mariano Rivera.
The stats, however, don't say everything. Martinez's approach at the plate says the rest.
On Thursday, with the Tigers down by three in the ninth, Martinez smacked a two-out RBI single, setting up Torii Hunter's walk-off home run. He began the crucial at-bat 0-2.
On Wednesday, a night that the Tigers were out of it early, Martinez was focused throughout. He had three singles, including an eighth-inning ground ball through the right side that helped fuel a three-run inning.
"If you watch this game, I think it describes Victor Martinez," manager Jim Leyland said after the loss. "We're way behind, obviously we're not going to win the game, and he's grinding out his at-bats like the winning run is on third base in the seventh game of the World Series. And that's why we love Victor Martinez, and that's why Victor Martinez is a great hitter.
"I'm very proud of him. He could've cashed it in. He could've even asked to come out, get a little break from his legs even though he's a DH. But he was grinding his at-bats out right to the end."
Martinez leads the Major Leagues with 60 hits since the All-Star break, six more than Arizona's Martin Prado. He also has more games with three or more hits (18) this season than anyone in baseball. Twelve of those 18 three-hit games have come since July 1.
"I'm not going to lie, it feels good," Martinez said. "I've been on both sides, really struggling and nothing coming out of it. Now, praise God, I'm finally finding holes when I'm making contact. You just feel great."
The turnaround is shaping up to be an even bigger second-half comeback by a Tigers hitter than Magglio Ordonez's late-season charge in 2009. Ordonez headed into the All-Star break that year batting .260 with a .673 OPS, then hit .375 with a .978 OPS from then on out, including a .439 tear after Sept. 1. Martinez had a lower average (.258) going into the break, but a higher OPS (.693). Entering Thursday, he was hitting .377 over the season's second half.
Jason Beck is a reporter for MLB.com. Read Beck's Blog and follow him on Twitter @beckjason. Bobby Nightengale is an associate reporter for MLB.com. This story was not subject to the approval of Major League Baseball or its clubs.