Speedy Iglesias working on baserunning skills
Speedy Iglesias working on baserunning skills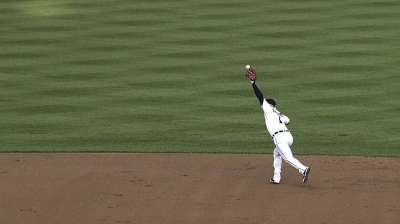 DETROIT -- The basepaths at Comerica Park were largely deserted Wednesday afternoon when Jeff Cox was working with Jose Iglesias. It wasn't as animated as the Spring Training sessions Cox had with Austin Jackson, when Cox would slide into first base to show a technique, but he was still getting his point across: Baserunning is a fundamental skill, and to some degree, it's a mindset.
A few hours later, Iglesias had stolen his first base as a Tiger, swiping second on Kurt Suzuki, whose overthrow into center field allowed Iglesias to take third.
"We're going to give him some opportunities to steal bases," manager Jim Leyland said, "but we'll see how that plays out. But he's a very good runner. He's a better runner than I thought he was when we acquired him. I didn't know he was as fast as he is."
The Tigers hired Cox, a longtime coach most recently with the White Sox, as a baserunning consultant this year. He has worked mostly with Jackson, but has also taken time with Andy Dirks and Hernan Perez during his periodic stops in Detroit.
In Iglesias, he not only has a pupil eager to learn, he has a young player with the potential to put his speed to good use on the bases. He has 29 infield hits, second only to Ichiro Suzuki among American League players, and he has grounded into only one double play in 15 chances this year.
"When you've got 30 infield hits, you've done one thing: You've run them out hard," Leyland said.
It also means a quick start out of the batter's box.
"He's a very instinctive, smart player," Leyland said. "He's really good. He'll make some adjustments at the plate over the year, and I think he'll be a good offensive player. He's potentially a very, very good player for a long time."
Jason Beck is a reporter for MLB.com. Read Beck's Blog and follow him on Twitter @beckjason. Bobby Nightengale is an associate reporter for MLB.com. This story was not subject to the approval of Major League Baseball or its clubs.