Torii gets quick breather before seeing action
Torii gets quick breather before seeing action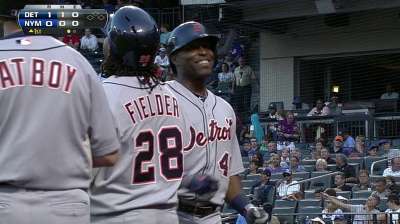 NEW YORK -- Tigers manager Jim Leyland decided to give Torii Hunter a rest on Saturday. Hunter, who had played every day since Tuesday, wanted to be in the starting lineup, but Leyland wasn't budging.
Leyland said it's just a matter of giving Hunter a rest, since he's been playing so much.
"I told him, 'That's my call, and I'm not playing you today,'" Leyland said.
Andy Dirks started in right field on Saturday.
That meant Hunter, 38, wouldn't be digging into the batter's box to face the Mets' hard-throwing right-hander Matt Harvey.
But Leyland did end up using Hunter as pinch-hitter in the seventh inning of the Tigers' 3-0 win.
After a single by Matt Tuiasosopo, who started in left field, Mets manager Terry Collins brought Scott Rice in to pitch in relief of Harvey. Leyland sent Hunter up to pinch-hit for Dirks with two outs and the bases loaded. Detroit was looking to pad its 2-0 lead.
Hunter hit a ground ball to shortstop that Omar Quintanilla fielded and flipped to Daniel Murphy for the force out. Leyland immediately came out to argue that Tuiasosopo's foot slid in ahead of Quintanilla's flip.
Hunter stayed in the game, taking over for Dirks in right field. He ended up going 0-for-2 at the plate.
Chris Iseman is an associate reporter for MLB.com. This story was not subject to the approval of Major League Baseball or its clubs.