Pena soaking up advice from Tigers' stars
Pena soaking up advice from Tigers' stars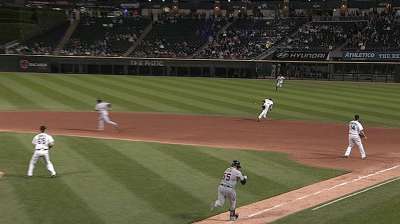 CHICAGO -- Brayan Pena was aware in Spring Training that he was in rare company in a Tigers clubhouse that houses multiple Gold Glovers, Silver Sluggers and a Triple Crown winner.
The backup catcher -- now thrust into the starting role while Alex Avila recovers from delayed concussive symptoms -- admittedly acted like a youngster this spring around guys like Torii Hunter, Miguel Cabrera and Prince Fielder when they talked about hitting.
"I was one of those guys, like a rookie, just listening to the big boys' talks and just soak it in and steal some ideas from them," Pena said before Wednesday's series finale against the White Sox, which his backup, Bryan Holaday, started. "So I got to grow right next to them, and I started opening up a little bit more and asking questions. They really helped me a lot."
Indeed it is. The 31-year-old Pena, who is in his ninth big league season and first with the Tigers, is having a carer year, hitting .306 with four home runs, eight doubles and 20 RBIs in 50 games. He's already two homers, three doubles and five RBIs shy of matching his career highs.
Pena entered 2013 with a .248/.286/.350 career line. He entered Wednesday batting .306/.332/.422 on the year.
The biggest reason for Pena's improvement? Hunter, Cabrera and Fielder, who Pena said encouraged him to focus on executing a game plan at the plate.
"I've got to give them a lot of credit, because they really helped me with my mental approach at home plate," Pena said.
They've also provided Pena with a fan-like experience in his first season with Detroit.
"Those guys, they're All-Stars," Pena said. "You don't have the opportunity to see that many All-Stars in one lineup. They've all been great, great players in their years in this league, and for us, especially for me, to be right next to them, day in and day out, man, it's unbelievable."
Cash Kruth is a reporter for MLB.com. Follow him on Twitter at @cashkruth. This story was not subject to the approval of Major League Baseball or its clubs.