Cabrera playing through abdominal pain
Cabrera playing through abdominal pain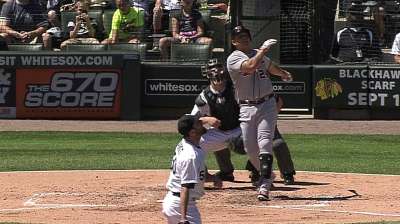 CHICAGO -- Plenty of adjectives have been used to describe Miguel Cabrera throughout his career, especially over the last 1 1/2 seasons.
The best way to describe him on Wednesday? Some combination of unbelievable/amazing/incredible, sure.
But also gimpy.
"No, he's not OK," Tigers manager Jim Leyland said Wednesday morning when asked about Cabrera, who was in the lineup despite being seen hobbling in the 11th inning of Tuesday's 4-3 loss to the White Sox.
Cabrera has been slowed by an abdominal strain for about three weeks, a span in which he's missed seven games.
He came up lame on Tuesday after lining a drive off White Sox reliever Addison Reed and being thrown out at first while trying to slide. Cabrera injured a shin on the play -- not aggravating his abdominal issue -- but Leyland said he didn't have any issue with the slide, calling it "a reaction to try to win a game."
Cabrera is the biggest name, but is just one of a handful of Tigers dealing with the usual nicks that accompany the season's dog days.
"This has been a tough stretch, a tough grind," said Leyland, whose team concluded a 10-game road trip on Wednesday. "They're tough, they go at it, they give you everything they've got. I couldn't be happier with them. We've got a lot of guys visibly you can see are hurting a little bit."
Despite the pain, Cabrera is still hitting. He smacked his 38th home run of the season in Wednesday's 6-4 win over the White Sox, a three-run shot to tie the game, and finished the 10-game road trip with six homers and 15 RBIs.
Cash Kruth is a reporter for MLB.com. Follow him on Twitter at @cashkruth. This story was not subject to the approval of Major League Baseball or its clubs.