Tigers see former mate Garcia in opposing dugout
Tigers see former mate Garcia in opposing dugout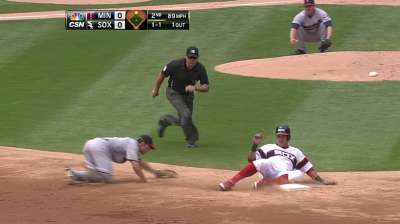 CHICAGO -- Tigers general manager Dave Dombrowski said after the Tigers' big Trade Deadline move with the Red Sox and White Sox that he wasn't looking forward to Avisail Garcia facing the Tigers 18 times a season.
Well, here comes No. 1.
The Tigers will see Garcia -- part of the trade in which the Tigers landed shortstop Jose Iglesias -- for the first time since that deal in Monday night's series opener at U.S. Cellular Field.
Garcia, batting sixth and playing right field Monday night, has appeared in three games with Chicago after starting his White Sox career at Triple-A Charlotte. The 22-year-old is hitting .222 (2-for-9) and has played right and center field, and said he's grateful for the opportunity to play every day.
The Tigers also are happy to see Garcia get that chance.
"I called him after we traded him. I'm looking forward to seeing him," Tigers manager Jim Leyland said. "He's a real pleasant kid, he's a good kid and he's got a real bright future. I'm happy for him. This is a great opportunity for him."
And although Garcia likely will hurt the Tigers this year or sometime in the future, Leyland still believes it was a great trade for Detroit.
"I think it was a very good move on the part of the Detroit Tigers," Leyland said. "They traded an outstanding outfielder, future guy who will perform for an outstanding shortstop -- a guy, I assume, should be the Tigers' shortstop for quite a while.
"I looked at it as a swap for a good-looking young outfielder for a good-looking young infielder."
Cash Kruth is a reporter for MLB.com. Follow him on Twitter at @cashkruth. This story was not subject to the approval of Major League Baseball or its clubs.