Peralta facing possible suspension
Peralta facing possible suspension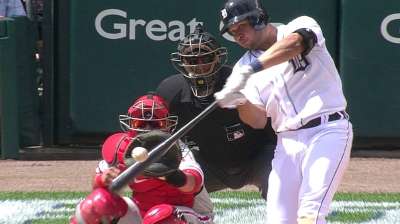 DETROIT -- After the Tigers traded for shortstop Jose Iglesias on Tuesday, it appears the team is prepared for a potential lengthy suspension involving shortstop Jhonny Peralta.
According to the New York Daily News, Major League Baseball officials told the Major League Baseball Players Association that the league plans to suspend nine players who allegedly obtained performance-enhancing drugs in connection to the Biogenesis investigation.
"I don't hear nothing yet," Peralta said. "I try to play this game. I'm still here, I don't worry about nothing, I try to play this game today."
Reports say Peralta, who was batting sixth and playing shortstop in Wednesday's game against the Nationals, was among the players given the option of a 50-game suspension without appeal or risking a longer suspension if he appealed to an arbitrator. Peralta, who will be a free agent at the end of the season, declined to say whether he would appeal a possible suspension.
"I don't have a comment yet about that," said Peralta, who was 1-for-4 with a walk and a run in Wednesday's 11-1 win over Washington. "I try to see what's better for everybody and see what can happen."
The announcement of suspensions could come on Friday as MLB and the union try to reach agreements to avoid numerous grievance hearings, according to The Associated Press.
"I don't try to put a lot of attention on it," Peralta said. "I try to play baseball every day and try to come here ready to play every day and try not to worry about everything that people say."
Peralta is enjoying one of the better seasons of his career, with a .307 batting average, 10 home runs and 53 RBIs in 101 games. But he said he would be disappointed if he has to stop playing.
"It's difficult to wait and everything like that," Peralta said. "Nobody wants to wait to see what'll happen. But whatever happens right now, I need to see what can happen and try to move on."
Jason Beck is a reporter for MLB.com. Read Beck's Blog and follow him on Twitter @beckjason. Bobby Nightengale is an associate reporter for MLB.com. This story was not subject to the approval of Major League Baseball or its clubs.