Cabrera, Leyland ejected after strike-call dispute
Cabrera, Leyland ejected after strike-call dispute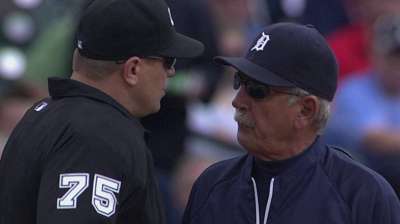 DETROIT -- Miguel Cabrera is one of the most dangerous two-strike hitters in baseball, covering so much of the strike zone and beyond that it's hard to point to a reliable out-pitch against him. The one sure place where Cabrera can't hit is the clubhouse.
It's not a place any hitter often finds on strike two, let alone Cabrera. But home-plate umpire Chad Fairchild said he heard something strong enough from Cabrera on a second called strike in the third inning Sunday at Comerica Park that led him to eject the slugger.
"He was removed from the game for arguing balls and strikes," Fairchild said. "What exactly he said will be in our report."
Cabrera's description after the Tigers' 12-4 win over the Phillies was succinct.
"I said, 'That was horrible,' and he threw me out," he said.
Fairchild's report will also include remarks on manager Jim Leyland, who was ejected a minute later for picking up the argument.
It's the second time this month that the Tigers have had multiple ejections from Fairchild. He was behind the plate to toss reliever Luke Putkonen on July 11 for throwing behind White Sox shortstop Alexei Ramirez after Chris Sale threw high and inside on Prince Fielder.
That ejection without a warning drew Leyland's temper high enough that players on both sides, who had cleared the benches, stopped to watch him argue. Sunday's argument wasn't nearly as much of a scene, but it was still contentious. Leyland was soon ejected, then followed Fairchild down the first-base line along with the rest of the crew.
"I'm not getting into that," Leyland said. "That's a dead issue. [Cabrera] obviously said something and made a remark that the umpire didn't care for. We'll just leave it at that."
Cabrera stepped to the plate with the bases loaded and one out in the third inning against Philadelphia starter Jonathan Pettibone, who threw a first-pitch strike that drew a remark from Cabrera after Fairchild's call.
"I said something to him like, 'What's going on?'" Cabrera said. "Not 'going on,' but something with bad words."
Faircihld said he warned Cabrera after that pitch to stop arguing. Cabrera said something again once Pettibone got a strike call on the next pitch, but not with the same type of language.
"I warned him to stop, but after the second pitch, he began to argue balls and strikes again, and was removed from the game," Fairchild said.
Cabrera didn't make a motion to show up the call, nor did he step out of the box to pick up the dispute. The verbal reaction prompted the ejection.
"It was a big at-bat with the bases loaded, so you want to try to get a good pitch to hit," Cabrera said. "When you see that, you get kind of upset, say something, and I don't know, he decided to throw me out."
Fielder, who was on deck, stepped between the two as Cabrera yelled at Fairchild until Leyland came out and took over the case.
"Jim came out and asked for an explanation, which I gave to him," Fairchild said. "He then began to argue balls and strikes, and since he had left his position and argued balls and strikes, he was removed from the game."
Asked if the July 11 ejection came up in Leyland's argument, crew chief Jeff Kellogg said, "That will be in our report, but I'm not going to comment on that now."
The two ejections from Fairchild are the only ones Leyland, who now has 70 for his career, has drawn this season. Bench coach Gene Lamont took over managerial duties for the rest of the game.
Cabrera's ejection led to the unusual situation of Matt Tuiasosopo stepping to the plate in an at-bat charged to Cabrera. Tuiasosopo was credited as a pinch-hitter, but because he entered with a two-strike count, the strikeout was charged to Cabrera.
"I try to get my body as loose as possible real quick, because you don't know what move they're going to make on the bench, which one of us they're going to put in," Tuiasosopo said. "When they did, I had a couple seconds to get a couple swings in. You just try to see the ball and hit it, kind of like what I do normally, but you only get one strike. I should've swung."
Instead, Tuiasosopo took a called third strike at the knees.
"I said anything close, just swing," Tuiasosopo said. "Bases loaded, put the ball in play at least. That last one, I thought it was down. He called it strike three. Kind of a crazy situation."
Jason Beck is a reporter for MLB.com. Read Beck's Blog and follow him on Twitter @beckjason. Bobby Nightengale is an associate reporter for MLB.com. This story was not subject to the approval of Major League Baseball or its clubs.