Hunter exits game due to sore left Achilles
Hunter exits game due to sore left Achilles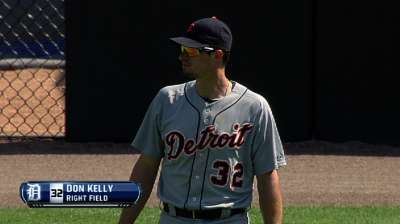 CHICAGO -- Torii Hunter left Chicago with a bad case of buyer's remorse.
The Tigers' outfielder was forced out of Thursday's 7-4 loss to the White Sox with a sore left Achilles, but chalked it up to a new pair of dress shoes that left him sore all afternoon.
Hunter came out of the game after grounding out to shortstop in the eighth inning, but insists he won't miss any time. He left the clubhouse wearing a suit and black tennis shoes.
"I bought a pair of shoes and they might have been a little tight on the Achilles," Hunter said. "I was a little sore the whole game. Dress shoes, not my spikes -- I've worn the same spikes the last three months -- so it was definitely those shoes. I'll be fine tomorrow. It was just a little sore. I played through it the whole game. It happened this morning and I'm fine."
Hunter homered earlier in the afternoon -- his third of the four-game series -- and is hitting .349 with 17 runs, four doubles, two triples, six home runs and 18 RBIs in 20 July games.
The Tigers are already without No. 3 hitter and reigning American League MVP Miguel Cabrera, who has sat out the last three games with a sore left hip flexor. They'd prefer not to lose their No. 2 hitter, as well.
"I'm a gamer, man," Hunter said. "I come ready to play. You know that. I'll be in there tomorrow. Don't worry about it."
Joey Nowak is a reporter for MLB.com. Follow him on Twitter at @joeynowak. This story was not subject to the approval of Major League Baseball or its clubs.