Jackson improves vs. lefties, but not stealing much
Jackson improves vs. lefties, but not stealing much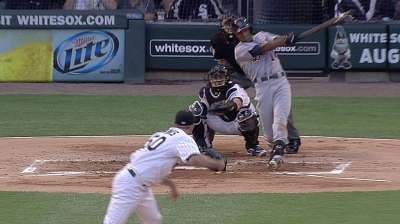 CHICAGO -- Austin Jackson has looked good to Tigers manager Jim Leyland against the White Sox left-handers at the plate this week. The next order of business is getting Jackson comfortable on the basepaths.
"I think he's been a little reluctant because of his hamstring," Leyland said. "I think at this point he would have been going a little bit more. But I think he's more conscious of it."
The Tigers in Spring Training said they hoped Jackson would steal more bases -- he stole 12 in 137 games last year -- but Jackson missed about a month this year with a strained left hamstring.
Only two players in the Majors -- St. Louis' Matt Carpenter and Atlanta's Andrelton Simmons -- have more than 200 at-bats in the leadoff spot this year and fewer than six stolen bases. Jackson has six swipes and 294 at-bats in the top spot.
But Jackson has hit lefties hard this week, and southpaws have given him great trouble this year. He entered this week's series with a .159 average against southpaws and has a hit in the past two games against Chicago's lefty starters, including a home run Wednesday against John Danks. And some of the balls he's hit hard are not reflected in the box score.
"He's swung the bat good," Leyland said. "He's a big key for us."
Joey Nowak is a reporter for MLB.com. Follow him on Twitter at @joeynowak. This story was not subject to the approval of Major League Baseball or its clubs.