Jackson to get extra work against lefties
Jackson to get extra work against lefties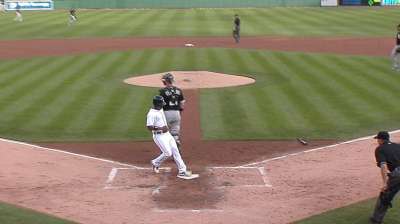 CHICAGO -- The Tigers expect to see a plethora of lefties this week in Chicago -- the first three White Sox starters in the series are southpaws -- which has meant trouble lately for Detroit center fielder Austin Jackson.
Jackson is batting .272 this year after a .300 campaign last season, and just .159 against lefties heading into the four-game set at U.S. Cellular Field.
"We might have him take some extra hitting off [Ed Hodge] because he hasn't done very well against left-handed pitching, so we're going to tell [hitting coach Lloyd McClendon] to set some stuff up for Hodge to throw to him a little bit," manager Jim Leyland said.
The Tigers brought in Hodge this year for the purpose of throwing left-handed batting practice. Jackson is a career. 292 hitter against righties and a .246 hitter against southpaws.
"Overall, he's got to get it going. That's all," Leyland said. "And he'll get it going."
Joey Nowak is a reporter for MLB.com. Follow him on Twitter at @joeynowak. This story was not subject to the approval of Major League Baseball or its clubs.