Infante recovering slowly from sprained ankle
Infante recovering slowly from sprained ankle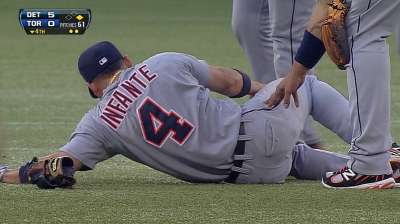 DETROIT -- When Omar Infante was placed on the 15-day disabled list, it was expected that he would need only a few extra days to heal his sprained left ankle before returning after the All-Star break.
However, progress has been slow, and it may throw a wrench into an immediate return after the All-Star break.
"He's going to Orlando for the break and he's supposed to play for [Class A] Lakeland as soon as he can," manager Jim Leyland said. "But I don't know how fast that's going to happen."
Infante hit off a tee in the batting cages Saturday and was planning to try running on his ankle Sunday.
"Progress is slow," Infante said. "I feel good, but it's still slow. I have to continue treatment, continue running. I'll have to get ready for the opening day [after the All-Star break] or try to go to Chicago [on July 22]."
Infante sustained the injury on a hard slide by the Blue Jays' Colby Rasmus on July 3. Hernan Perez and Ramon Santiago have split time at second base in Infante's absence.
Bobby Nightengale is an associate reporter for MLB.com. Follow him on Twitter @nightengalejr. This story was not subject to the approval of Major League Baseball or its clubs.