Rondon receiving guidance from Benoit
Rondon receiving guidance from Benoit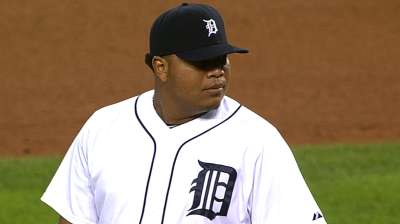 DETROIT -- Bruce Rondon is still learning to become a Major League pitcher, but he's also shown more success in his second stint with the Tigers this season since being called up from Triple-A Toledo on June 28.
"The difference was the consistency in my pitches -- the slider, breaking ball and everything," Rondon said through translator Aileen Villarreal. "Joaquin Benoit has really guided me through that consistency."
For his part, Benoit says he can't teach Rondon how to be consistent and that he's just a helpful guide.
"I've been telling him little things about pitching," Benoit said. "Everybody knows his arm; he's a hard thrower. He just needs some pointers about what to do with his game."
In his return to the Tigers, Rondon has added a changeup while also throwing his slider with more success. Opposing hitters are hitting .316 against his fastball but are 1-for-7 against his slider, according to Brooks Baseball.
"It takes a while before you're a finished product, and he's not a finished product," manager Jim Leyland said. "He's making a lot of progress, but I don't expect him to be a finished product this year. This is a nice little opportunity for him to get his feet wet, get some experience, get better with every outing and learn how to handle an outing that's not so good."
Rondon pitched a perfect 1 1/3 innings with two strikeouts on Friday. All 10 of his pitches were strikes. Throwing that many strikes, however, can also cause problems.
"He doesn't really need to throw a lot of strikes; 10 strikes in a row is more than you can ask for a hard thrower," Benoit said. "I'm just telling him what to do sometimes against hitters. Most of those guys know he can throw hard, and they will try not to take strikes. They will just start to jump on his fastball. That's what I tell him, to use his fastball more up in the strike zone, and he'll see better results."
Bobby Nightengale is an associate reporter for MLB.com. This story was not subject to the approval of Major League Baseball or its clubs.