Porcello drops appeal, suspension reduced to five
Porcello drops appeal, suspension reduced to five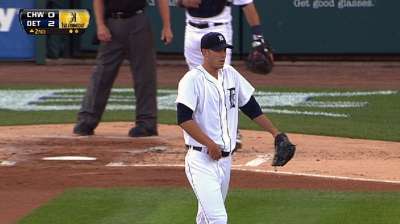 DETROIT -- Rick Porcello made it through his last start before the All-Star break, which is pretty much all he wanted to accomplish by appealing his suspension. So with his first half over, Porcello dropped his appeal Thursday morning and prepared to spend the weekend as a spectator.
Porcello can do his usual pregame routine in uniform, but he can't be in the dugout or clubhouse once the game starts.
"It'll be weird not being down there [in the dugout]," Porcello said Thursday morning. "It's going to be a long suspension, because the [All-Star] break's going to be in between. Gotta make sure to stay mentally focused as much as I can."
In exchange for dropping the appeal, Porcello's six-game suspension was reduced to five by Major League Baseball. Porcello will serve four games leading into the All-Star break, leaving him with one game to serve next Friday in Kansas City.
Manager Jim Leyland hasn't announced his second-half rotation yet, but with only Max Scherzer currently on track to pitch in the All-Star Game -- unless Anibal Sanchez is added -- the Tigers shouldn't have any trouble finding fresh pitchers to start before Porcello is eligible.
More importantly, by timing it this way with the appeal, Detroit did not have to use a spot starter. With no scheduled off-day in the final 20 days before the break, the Tigers had no way to simply skip Porcello's spot before now.
"It worked out fine," Porcello said.
Porcello's suspension came down last Tuesday after he hit Rays second baseman Ben Zobrist on his right shoulder with a pitch in the first inning on June 30, one day after Miguel Cabrera and Leyland took offense to Rays closer Fernando Rodney throwing a pitch up and in on Cabrera.
It's not unusual for players to go more than a week between appealing a suspension and having a hearing on it.
Porcello didn't want to voice much opinion about the suspension, but he admitted he was surprised by it.
Jason Beck is a reporter for MLB.com. Read Beck's Blog and follow him on Twitter @beckjason. Bobby Nightengale is an associate reporter for MLB.com. This story was not subject to the approval of Major League Baseball or its clubs.