Miggy declined Derby invitation because of soreness
Miggy declined Derby invitation because of soreness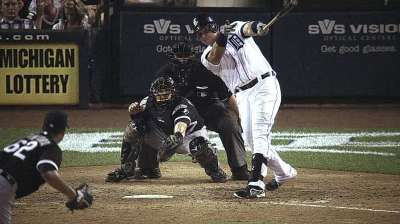 DETROIT -- Despite an offer from American League captain and Yankees second baseman Robinson Cano to participate in the Chevrolet Home Run Derby at Citi Field next week, Miguel Cabrera chose to decline because of an ailing hip and back.
Manager Jim Leyland and head athletic trainer Kevin Rand talked to Cabrera on Tuesday and recommended that he didn't take part in the event.
"We made the decision together," Cabrera said. "We've been talking the last few days. One day it's good, one day it's bad. It's my hip more than my back. We need to be careful. If something happened, it would be bad for the team."
Cabrera hit his 29th home run and the 350th of his career in the eighth inning against the White Sox on Tuesday night. Leyland, however, thought it was the smart choice to avoid the Home Run Derby, where the amount of swings can make it a grueling experience.
"He's not 100 percent, and I think that would be pretty ridiculous to go up there and take a whole bunch of swings trying to hit a home run with his back the way it is," Leyland said. "Even though he's fine, he can play, but he's not 100 percent."
Leyland said Cabrera's injuries have flared up momentarily with certain movements, but he doesn't expect Cabrera to deal with soreness for the rest of the season.
"I think it's a matter of what you can handle, and the best part about it is he's got a manager that if he needs a day or two off, he's gonna get it," Leyland said. "But I don't think this is something that's going to linger, I don't really see that, I'm not getting any vibes like that from the trainers or Cabrera."
Download the official MLB.com Home Run Derby Game, featuring 24 sluggers from the 2010-12 Home Run Derby events. Connect and challenge gamers on the worldwide leaderboards. Available for free in the Apple App Store.
Bobby Nightengale is an associate reporter for MLB.com. This story was not subject to the approval of Major League Baseball or its clubs.