Leyland explains Miggy-Prince double steal
Leyland explains Miggy-Prince double steal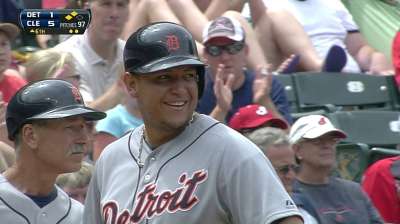 CLEVELAND -- Miguel Cabrera and Prince Fielder have put up back-to-back home runs a few times in their time as teammates. Back-to-back stolen bases, so to speak, is a first.
Well, that just happened.
It was a hit-and-run play during the Tigers' comeback attempt on Sunday afternoon. When Jhonny Peralta swung and missed, however, it became a double steal -- Cabrera taking third, Fielder moving to second.
"Part of the reason for that was [that] Jhonny Peralta could strike out, and he also isn't a double-play guy," manager Jim Leyland said. "If I start Cabrera [running], I know for sure he's going to score [on a base hit], and I know Fielder's going to get to third, and if he hits it in the gap, Fielder's got a chance to score.
"In this situation I just rolled the dice. There's nothing wrong or right. I said, 'Well, I'm going to gamble that they don't strike him out,' which he did. But we still got the stolen base."
There's also a message behind the move, Leyland admitted, which is a rarity for him.
"There are times in the game when you also want to send a message to your team that, 'Hey, you're not quitting this game. We're not going to lay down and not play this game out.' And I think that's very important."
Jason Beck is a reporter for MLB.com. Read Beck's Blog and follow him on Twitter @beckjason. This story was not subject to the approval of Major League Baseball or its clubs.