Leyland proud of Prince's heads-up double play
Leyland proud of Prince's heads-up double play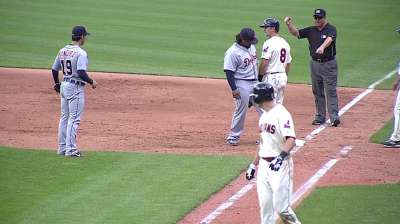 CLEVELAND -- Tigers manager Jim Leyland talked like a proud manager Sunday morning about the double play Prince Fielder turned Saturday afternoon. When Fielder tagged the lead runner standing on first base before he touched the bag, he got right what Boston's Dustin Pedroia mixed up last month at Comerica Park.
"Every now and then in Spring Training, we discuss a rule before we start our day's work," Leyland said. "And that was one of the rules we discussed. It's kind of neat when something like that happens, because then the players don't just think, 'What the heck are we discussing something like this for?' And here it's happened a couple times. It makes you feel good."
It wasn't abundantly clear whether Fielder remembered that. He did pause for a few seconds between tagging the runner and stepping on the base.
Still, he'll accept credit.
"It's knowledge of the game, man. Knowing of the game," Fielder said with a smile. "I got lucky."
Jason Beck is a reporter for MLB.com. Read Beck's Blog and follow him on Twitter @beckjason. This story was not subject to the approval of Major League Baseball or its clubs.