Leyland finally comfortable with bullpen
Leyland finally comfortable with bullpen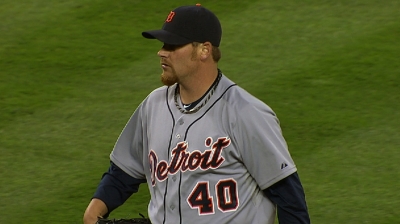 TORONTO -- The sense of relief in manager Jim Leyland's voice was evident Tuesday night when he talked about his bullpen coming together and settling into roles. It was still there when he discussed it again Wednesday afternoon.
That bullpen order does not include any more multi-inning roles for guys like Al Alburquerque and Phil Coke. That experimenting seems to be over, at least for now.
Even with a right-handed hitter, Mark DeRosa, leading off the eighth inning Tuesday, Leyland did not want to extend Alburquerque after he pitched a hitless seventh.
"It seems like, for whatever reason, we've had some issues with guys going back out for the second inning, even to get an out," Leyland said. "So I'm pitching those guys, and however it plays out the next inning is however it plays out. And I think that benefits them from [not] sitting there, because that seemed to be a problem for a few of our guys. We're eliminating that."
Alburquerque was extended for two or three innings at a time early in the season. That worked out well in April, then became a problem in May, eventually leading Alburquerque out of whack and back to the Minor Leagues.
The numbers show the difference. Major League hitters are batting just .157 (8-for-51) against Alburquerque in his first 15 pitches of an outing. From pitches 16 to 30, batters are 6-for-22 (.273) off of him.
Coke actually has allowed a higher average (.282) in his first 15 pitches than his next 15 (.200), but his walk rate balloons.
So for now, the Tigers' two long relievers are Luke Putkonen and Darin Downs. Of course, the key to keeping the other guys generally at an inning apiece will be starters working deep into games, something they've generally lacked.
They're getting there.
"I feel pretty comfortable right now with our bullpen," Leyland said. "This is the most comfortable I've felt all year with the bullpen. I think we've finally got it to where it's very workable. I like it."
Jason Beck is a reporter for MLB.com. Read Beck's Blog and follow him on Twitter @beckjason. This story was not subject to the approval of Major League Baseball or its clubs.