Tigers reflect on Prince's 'gigantic' home run
Tigers reflect on Prince's 'gigantic' home run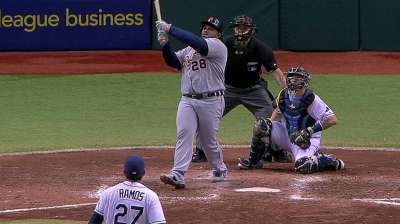 ST. PETERSBURG -- How far would Prince Fielder's towering moonshot home run on Friday have traveled if it hadn't struck the catwalk high above right field at Tropicana Field?
"I don't have any clue where that ball would have come down," Jim Leyland said Saturday. "It was just a gigantic shot, obviously. I wish it hadn't hit the catwalk. I would have like to have seen where it came down. But unfortunately we didn't get a chance to see that. It's very rare when you hit the exact sweet spot on the bat. And Prince hit the sweet spot."
The Rays' PR staff estimated the distance at 414 feet. ESPN placed the distance at 389. Many Tiger fans are convinced the ball traveled much farther than that.
Where would that ball have landed in old Tiger Stadium?
"Off the facing of the third deck at Tiger Stadium, I would think," said third-base coach Tom Brookens, who played at the corner of Michigan and Trumbull during the 1980s.
Fielder, who took batting practice at Tiger Stadium as a youngster in the early 1990s when his dad, Cecil, played for the Tigers, wouldn't venture a guess.
"I couldn't visualize where it would have hit," he said.
Jim Hawkins is a contributor to MLB.com. This story was not subject to the approval of Major League Baseball or its clubs.