Cabrera falls triple short of cycle for 23rd time
Cabrera falls triple short of cycle for 23rd time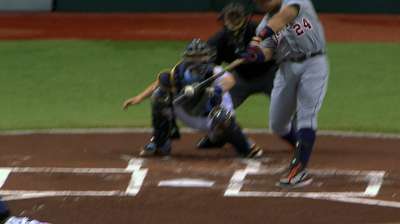 ST. PETERSBURG -- Lost amidst all the hoopla that followed Miguel Cabrera's two gigantic home runs on Friday night was the fact that with a single and a double in addition to those two home runs, Cabrera fell a triple shy of completing the cycle.
According to Bill Chuck of BaseballAnalytics.org, it was the 23rd time in his Major League career that Cabrera has come within a three-bagger of hitting for the cycle.
Since 2003, only Albert Pujols has been a triple shy of the cycle more often. He has done it 24 times. It has happened to Alex Rodriguez 22 times.
Cabrera fell a double short of the cycle on July 6, 2010 against the Orioles.
Jim Hawkins is a contributor to MLB.com. This story was not subject to the approval of Major League Baseball or its clubs.