Rondon returns to Tigers, but won't be closer
Rondon returns to Tigers, but won't be closer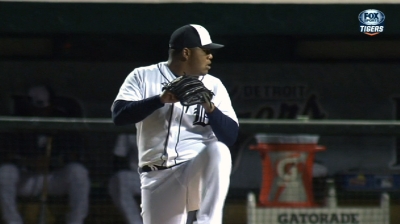 ST. PETERSBURG, Fla. -- Rookie reliever Bruce Rondon returned to the Major Leagues on Friday. But manager Jim Leyland made it clear the hard-throwing right-hander will not be the Tigers' closer.
"He's not being brought back as the closer. Period. Which he is aware of," Leyland said.
Asked what Rondon's role will be in his second stint with the Tigers, Leyland responded, "Probably the sixth or seventh inning, maybe the eighth once in a while. It all depends on who's available."
Leyland also said Rondon would only be used for one inning at a time.
To make room on the 25-man roster, right hander Evan Reed (0-0, 2.61 ERA in six games) was optioned to Triple-A Toledo.
Going into Spring Training, Rondon was the leading candidate for the job of Tigers' closer. But he didn't make the Opening Day roster and struggled after being promoted in late April. Rondon allowed three runs on five hits and walked two in 2 1/3 innings, posting an 11.57 ERA in three games in his first stint with the Tigers before being sent back to Toledo.
At Toledo, Rondon went 1-1 with 14 saves and a 1.52 ERA. He struck out 40, allowed 14 hits and walked 13 in 30 outings, covering 29 2/3 innings.
"He's been pitching real good," Leyland said. "But it's rare that a guy that young is brought up as a closer. I don't think he's a total finished project yet, but I think he's made a tremendous amount of progress. He's been throwing strikes, and he's been throwing first-pitch strikes."
With Jose Valverde outrighted to Toledo, Joaquin Benoit is now the Tigers' closer.
Asked Friday if Rondon might be used in that role on nights when Benoit is not available, Leyland replied, "I'm not going there."
Jim Hawkins is a contributor to MLB.com. This story was not subject to the approval of Major League Baseball or its clubs.