Dombrowski will wait and see on bullpen mix
Dombrowski will wait and see on bullpen mix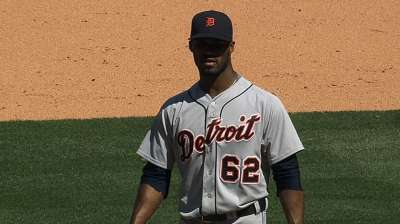 DETROIT -- The question posed to Tigers president/general manager Dave Dombrowski was a potential snafu: Does he think his bullpen is good enough?
Dombrowski answered it about as well as could at this point.
"We'll find out," he said.
With Jose Valverde designated for assignment, potentially heading to Triple-A Toledo to work out his issues if he accepts an outright move, and Joaquin Benoit at the head of a closer-by-committee, the Tigers have just under six weeks to figure out what works and what they need with their relief mix before the July 31 Trade Deadline.
Part of that will be Benoit as Plan A at closer. Part, too, will be the just-recalled Al Alburquerque in the eighth inning, and Drew Smyly likely in the seventh. The Tigers could go into the final week of July with any number of relief parts they could use, or they might actually go into August liking what they have.
Until then, Dombrowski is keeping his outlooks short-term.
"We're comfortable with this group right now," Dombrowski said. "I can't speak for August. I'm not a fortune-teller. As it is, we're comfortable with this group as we stand now. But you never know what happens with anything.
"I never know what happens with any position on this team. That's why I watch us play day in and day out. But we like this group. We think it has a chance to win for us."
Dombrowski rarely announces positions of need in the middle of the season. He will not discuss potential closing options on the trade market, but his observation on the state of bullpens around baseball might well make a point: Acquiring a closer isn't as easy these days as scanning the rosters and finding a team in selling mode.
The fact that the other team at Comerica Park this weekend, the American League East-leading Red Sox, changed closers Friday from Andrew Bailey to Koji Uehara, reinforce that even other teams with World Series aspirations are still sorting out their ninth innings, often with multiple relievers.
"I understand the bullpen questions, because we've all been living through it," Dombrowski said. "However, you live in a vacuum with your own club. If you look out there right now, there are not a lot of shutdown, lockdown closers out there anywhere. There's very few of them, and a lot of people have struggled with the back end of their bullpens. So it's a situation where if you sometimes mix and match, it can work for you. We think we have guys with the ability to do so."
Alburquerque could be the most critical among them, even more so than Benoit. The Tigers have struggled for right-handed relief depth since late April, when Octavio Dotel went on the disabled list and Alburquerque lost command and ended up in Toledo. Thursday's eighth inning showed that void perhaps as well as any game this year, with Phil Coke left to face switch-hitter Shane Victorino and the right-handed-hitting Dustin Pedroia.
They're not sure Alburquerque's command is back, but they have to find out.
"His slider's been very good," Dombrowski said. "His fastball has been thrown with more consistency. I don't think he's going to be pinpoint. That's not how he was even when he was effective. He feels good about himself. He feels like he's ready to come back here and help us."
Jason Beck is a reporter for MLB.com. Read Beck's Blog and follow him on Twitter @beckjason. Bobby Nightengale is an associate reporter for MLB.com. This story was not subject to the approval of Major League Baseball or its clubs.