Benoit Leyland's first option in closer situation
Benoit Leyland's first option in closer situation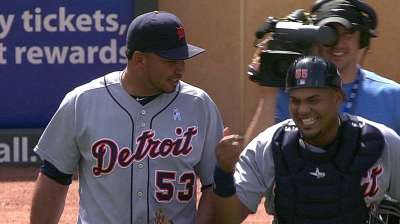 DETROIT -- Before Jose Valverde rejoined the Tigers at the end of April, manager Jim Leyland had a bullpen by committee, but had Joaquin Benoit as his preferred option.
"On a lot of the days, if it's doable, I think [Joaquin] Benoit is the most experienced and versatile enough against righties and lefties to pitch the ninth," Leyland said in late April. "But it's not going to be doable every day."
Eight weeks and a Valverde comeback later, they're pretty much back to that setup. The only difference now is that they have a deposed closer in the mix.
"I'm not naming anybody closer," Leyland said Thursday. "I'm just saying that if Benoit's available right now, I would probably try to close with him, if he's fresh and available."
Benoit was well-rested heading into Thursday, so he was the closer of choice for Thursday's series opener against the Red Sox.
Essentially, it was the manager's announcement of a shift that began taking shape last weekend, when Benoit recorded the final four outs of last Sunday's win at Minnesota. Leyland made it clear he won't set up Benoit for four-out saves, but he had already been hinting last week that he was beginning to handle ninth-inning matchups situationally.
Benoit and his changeup, just as in April, give Leyland his best balance against right- and left-handed hitters. Left-handed hitters are 8-for-42 (.190) against him, while right-handed batters are 13-for-64 (.203).
If Benoit is the closer, he said Leyland hasn't told him, he'll handle whatever situation comes up. He said back at season's start that a bullpen by committee is difficult on relievers, but that they'll handle it.
"It's a tough situation for the bullpen, not knowing who is going to close," Benoit said. "Somehow [Leyland] will figure it out, and we'll get it done."
Valverde's role, now and for the near future, is unclear. He was signed to close, and history has shown his struggles in non-save situations. So did Wednesday's 13-3 loss to the O's, who hit him around for four runs in a 10-pitch stretch of the ninth inning after he entered with the Tigers facing a 9-3 deficit.
Valverde was not in the closer mix Thursday, but that's all Leyland would say about his role.
"What I'll do is I'll pitch him when I see fit, and try to do that intelligently," Leyland said. "I don't know exactly how it'll work out, because I don't know how the games are going to go."
Valverde, for his part, was defiant about his struggles. Chris Davis' home run Wednesday was Valverde's sixth allowed in 20 appearances this year; he hadn't given up more than five in a full season since 2008.
"You have to give credit to the hitter, too," he said. "There's nothing you can do. Oh, when I'm pitching good all the time, when I have a save every single day, I'm the best guy? No. You have to give credit for all the players on the other team."
Asked if he thinks he can regain his closer role, Valverde answered, "Why not? Have you seen all my numbers, what I have? I have [286] saves. It's not easy to do that. You have to see all my numbers, what I've done in the past.
"Everybody thinks I was doing bad last year. I had 35 saves in 40 chances. Is it bad? No."
There are no indications a roster move with Valverde is imminent, but Valverde's contract could force a decision. He has a $500,000 bonus that he reaches with his 25th game finished, then $500,000 for every five games finished after that. Wednesday's ninth inning, though it wasn't a save situation, was nonetheless his 18th game finished this year.
Jason Beck is a reporter for MLB.com. Read Beck's Blog and follow him on Twitter @beckjason. Bobby Nightengale is an associate reporter for MLB.com. This story was not subject to the approval of Major League Baseball or its clubs.