Tigers put Anibal, Avila on 15-day disabled list
Tigers put Anibal, Avila on 15-day disabled list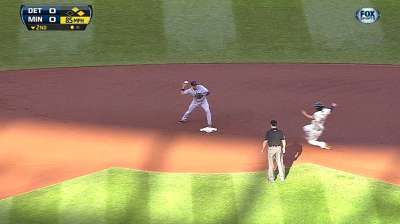 DETROIT -- Something didn't seem right in Anibal Sanchez's start against the Twins on Saturday. It turns out the concern was shared by the Tigers, who placed the right-hander on the 15-disabled list Monday with a strained right shoulder along with catcher Alex Avila with a deep bruise on his left forearm.
Sanchez was pulled after 3 2/3 innings and 72 pitches Saturday, after his velocity was down. According to Fangraphs, his fastball averaged 89.5 mph, the slowest he's thrown in a game this season. Sanchez was scratched as a precautionary measure from his previous start on June 9 due to muscle stiffness near his shoulder.
"He can't pitch like that [referring to his lower velocity]," head athletic trainer Kevin Rand said. "The thing is to make sure we get him right."
Avila left Sunday's game after being hit by a 93-mph sinker in the ninth inning.
"I think they both will be ready in two weeks," manager Jim Leyland said before Monday's game against the Orioles.
The Tigers did an MRI on Sanchez's shoulder Sunday, and it showed no structural damage. The team is waiting to do X-rays on Avila's left arm, but a preliminary scan came back negative.
"I don't think it's broken," Avila said, "but obviously it's something that'll probably take a few days and we can't leave the team short-handed.
"My arm was pretty swollen, tough to move, tough to grip anything."
Outfielder Avisail Garcia and catcher Bryan Holaday were called up from Triple-A Toledo. Garcia hit .288 with two home runs and 10 RBIs in 24 games before being sent down to the Minors on Friday to make room for center fielder Austin Jackson, who returned from the DL. Holaday went 3-for-12 in six games for the Tigers last season, and he was hitting .259 with two home runs and 15 RBIs at Toledo this year.
Holaday will share time behind the plate with the switch-hitting Brayan Pena. Holaday had a .308 batting average with a .410 slugging percentage against left-handed pitchers at Toledo. Pena has fared better as a lefty against right-handed pitchers, batting .375 with both of his home runs from that side of the plate.
"[Holaday's] got real good energy, he's a real good catcher, he throws real good and he's a tough guy," Leyland said. "He'll fight his at-bats, and we'll see what he can do while we're waiting for Alex to get back."
Left-hander Jose Alvarez will replace Sanchez in the rotation against the Red Sox on Thursday and will be called up prior to the game. Alvarez allowed one run in six innings while striking out seven in his last spot start for Sanchez on June 9 against the Indians.
Jason Beck is a reporter for MLB.com. Read Beck's Blog and follow him on Twitter @beckjason. Bobby Nightengale is an associate reporter for MLB.com. This story was not subject to the approval of Major League Baseball or its clubs.