Leyland concerned after Sanchez's short outing
Leyland concerned after Sanchez's short outing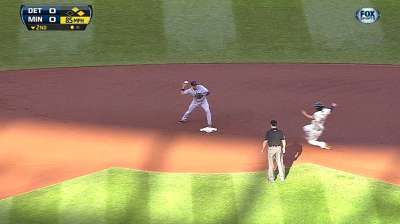 MINNEAPOLIS -- After Anibal Sanchez's short outing on Saturday night, Tigers manager Jim Leyland expressed some unease about his right-hander.
Leyland pulled Sanchez after 3 2/3 innings and 72 pitches. Sanchez missed his previous start with muscle stiffness in his upper back and was pulled on Saturday as a precaution, Leyland said after the game. The Tigers skipper also said that Sanchez was fine physically and was planning to pull him around 80 pitches.
But prior to Sunday's game, Leyland added that Sanchez "just didn't look right" in his start and was admittedly concerned.
"The funny part about it is, there's no pain or anything," Leyland said. "That's the information I'm getting. … I'm concerned about it. You don't have to be a rocket scientist to smell something. It just didn't look right coming out [of his hand]."
Sanchez did say after the game that despite feeling fine physically, his pitches didn't have their usual power and velocity.
"I can't explain it, I would like to know how this happened," Sanchez said.
Kelly Erickson is an associate reporter for MLB.com. This story was not subject to the approval of Major League Baseball or its clubs.