Hunter the latest former Twin to make return
Hunter the latest former Twin to make return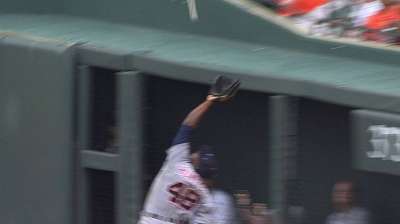 MINNEAPOLIS -- When Torii Hunter stepped up to the plate on Friday, he became the third former center fielder the Twins faced in consecutive series.
Hunter followed Denard Span, who went 4-for-9 with a triple and RBI for the Nationals, and Ben Revere, who was 8-for-14 with a triple and RBI for Philadelphia.
While Hunter joked that the trend doesn't count for him, now that he's in right field, he did say when it comes to game-time, he'll do what he can to help the Tigers win.
"I enjoy beating any team," Hunter said. "The Twins, I love them no matter what. But once I step between the lines, I'm here to win. If we lose, we lost -- but trust me in a loss, I'm trying to beat you. They're another team right now. I still love them … you'll see me smiling, but I'm trying to beat [them]. I'll run you over, I'll catch you, I'll take the second baseman out -- whatever I have to do to win."
Hunter, who last played for the Twins in 2007, went 4-for-14 with a double and an RBI the last time he played at Target Field in the season-opening series in April.
"He's always taken care of himself really well and worked really hard," Twins manager Ron Gardenhire said. "He looks as young as ever and moves around. I know he doesn't have the same speed he once had, or the arm strength, but he still really knows to play the game. He's a positive influence over there and I know that from talking to [Tigers manager] Jim [Leyland]."
Kelly Erickson is an associate reporter for MLB.com This story was not subject to the approval of Major League Baseball or its clubs.