Slumping Avila trying to simplify his approach at plate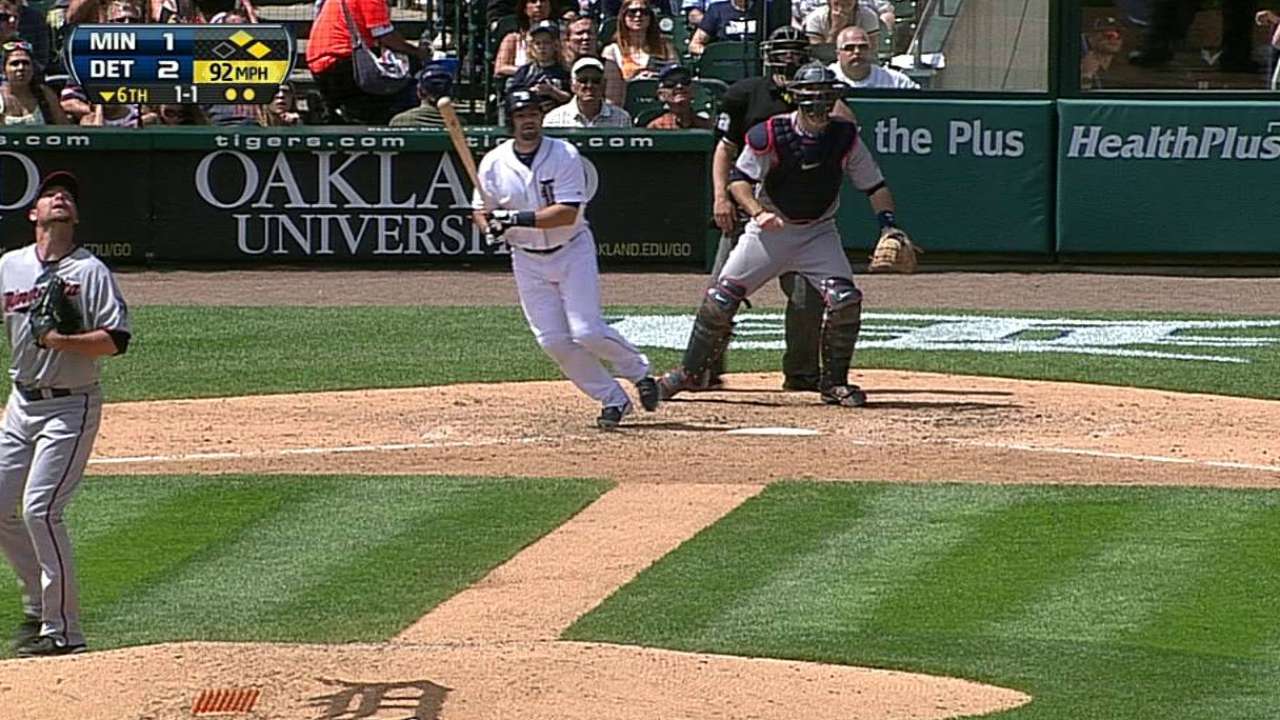 PITTSBURGH -- The Tigers didn't have many offensive highlights against Pirates pitching Tuesday night. The way Alex Avila has been struggling, his full-count walk and first-pitch single qualified.
The way Avila's season has been going, he wasn't going to argue that point.
"My at-bats [Tuesday] were good," Avila said after the Tigers' 1-0 loss, "and it felt good to have those at-bats. I just want to build on that."
Avila has been working with hitting coach Lloyd McClendon, trying to come up with adjustments that can quicken his swing and set him up for more consistent contact. In the end, they simplified his approach, taking out some mechanisms that were supposed to improve his swing but also complicated them.
"Normally in the past, I've always had a little bit of a toe tap for my rhythm," Avila said. "Recently, we've kind of eliminated that, tried to simplify it, get my swing a little bit shorter, make a little more contact."
He doesn't know whether that tweak is the answer, but he hopes it can at least put him in a better position to swing and make contact.
His first at-bat Tuesday was more about being in a position to take. He swung the bat only once out of seven pitches, fouling back a full-count sinker at 92 mph. The look on his face suggested he felt he just missed it.
He got the same pitch on the very next offering from Jeanmar Gomez, but out of the zone. He took it for ball four with two outs in the second inning.
His next at-bat in the fifth was the exact opposite. Gomez tried to get ahead with a first-pitch sinker over the plate and he centered it, lining it through the middle for a leadoff single. He was just 2-for-30 prior to that.
Statistically, the improvement from the last two games is incremental, raising his average from .168 on May 24 to .177 entering play Wednesday. It's the foundation, Avila said, he's trying to get at this point.
"We've been working our [butts] off trying to get me out of this," Avila said. "This is the worst stretch I've had in my entire life, since I can remember. Normally you get to the big leagues, guys are normally the best players in middle school, high school, college, all those things. You really learn how to deal with failure and how to be able to struggle and still be able to work and maintain your approach.
"We've been working very hard at it, trying to get back to basics and being a little more simple. We'll see how it goes."
Jason Beck is a reporter for MLB.com. Read Beck's Blog and follow him on Twitter @beckjason. This story was not subject to the approval of Major League Baseball or its clubs.