Leyland, Tigers seeing big things in Garcia's future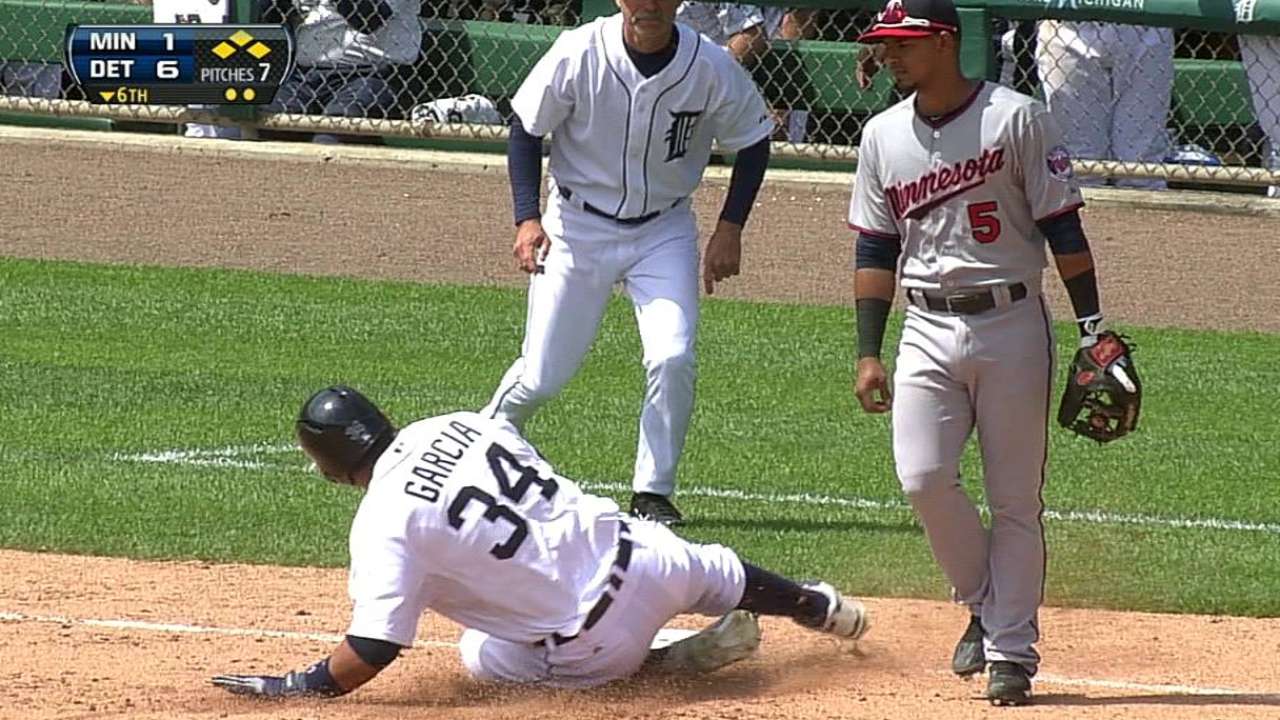 DETROIT -- This is a glimpse of the Avisail Garcia the Tigers believe will emerge with time.
This is the Avisail Garcia that many Tigers official believe still needs time and seasoning to emerge.
A week and a half after Garcia hit his first Major League home run, he reached down for a sixth-inning curveball on Sunday and lined it to the left-field fence for a three-run triple that broke open the game in the sixth inning. He was pinch-hitting, but he turned out a tenacious seven-pitch at-bat that few thought possible when he had a terrible walk-to-strikeout ratio as a teenager in the low levels of the Tigers farm system a few years back.
"That's usually the last thing to develop -- game power," manager Jim Leyland said.
He has six strikeouts and no walks in 19 plate appearances since making the jump from Triple-A Toledo.
"He hit up here last year like he didn't want to strike out," Leyland said. "But it's OK to strike out. He'll learn that as he goes on. And when he strikes out a little bit, he'll probably hit with more power as well. I'm not preaching it's good to strike out, but I am preaching that when you're a stronger guy that's got power, you're going to strike out some."
That's a process that will likely happen in a Mud Hens jersey, not in the big leagues. And that's something Leyland is preaching: The learning process won't go on in the big leagues.
"This kid's a big-time prospect, and that's just what he is right now," Leyland said. "We love him. I said three or four years ago I thought he was the best prospect in the organization.
"He's got a chance to be the total package, because he can run, he can throw, he can hit -- and we think he's going to hit with power. He's a tools guy that's got a lot of tools."
Garcia is helping fill the void of the injured Austin Jackson, whose trip to the disabled list led to Garcia's promotion. Still, Leyland is making it clear that Garcia is an injury fill-in, not a Major League regular yet -- not even close. Once Jackson returns, the Tigers want Garcia back in Toledo.
On a team trying to build a contender, maybe it would. On a team trying to win now with enough outfielders as it is, it's not happening yet.
"He needs to be at Triple-A getting 500 at-bats," Leyland said. "We brought him right now because it was an emergency situation. We were looking for a right-handed hitter, and he was the obvious guy. But the best thing for him right now is to get at-bats in Toledo."
Jason Beck is a reporter for MLB.com. Read Beck's Blog and follow him on Twitter @beckjason. This story was not subject to the approval of Major League Baseball or its clubs.