Pena's role shifting, if not expanding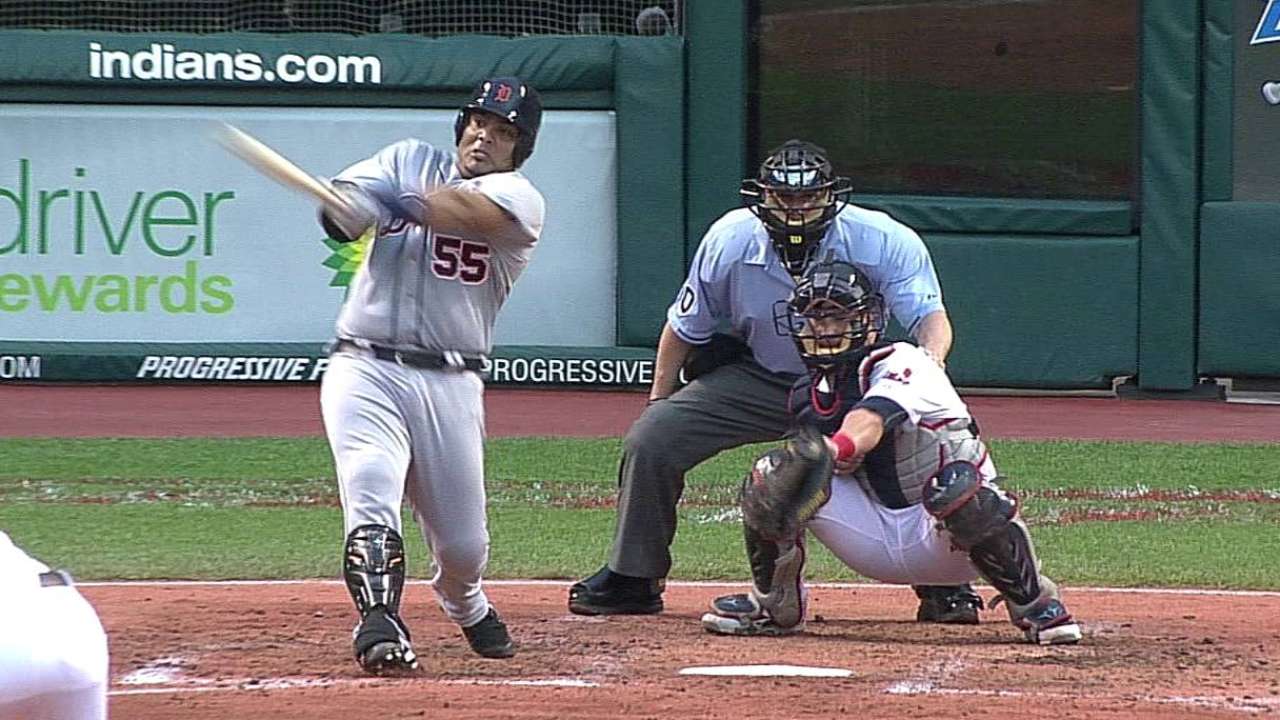 DETROIT -- The Tigers signed Brayan Pena to ease some of the wear and tear on Alex Avila and give Detroit a viable right-handed hitter against left-handed pitchers.
On Saturday, the switch-hitting Pena started against a right-handed starter for the second time in four days. Add in his start against Minnesota lefty Scott Diamond on Thursday, and Pena started three of Detroit's previous four games before Avila returned to the starting lineup Sunday against Twins righty Mike Pelfrey.
Against the two right-handers, Pena had two three-hit games.
Pena, manager Jim Leyland said, "has done a very good job settling in the backup role."
The starter-backup format, however, is a little skewed at the moment. Meanwhile, the mix of starts Leyland talked about doing with Pena and Avila seems to be taking shape.
"I'm trying to have a little bit of one [day] on, one [day] off just to see if we can get [Avila] going a little bit," Leyland said.
Leyland tried something similar in 2008, when Ivan Rodriguez was slumping. When it began, Pudge was batting .245 in early June. By mid-July, Rodriguez had raised his average to .295. Of course, the Tigers traded him at the Trade Deadline later that month, in part because he was unhappy with playing time.
Any change would more likely be in a timeshare like the Tigers have going right now. The goal of the timeshare so far, though, has been to try to get Avila out of his nearly season-long slump by reducing the wear and tear.
It would not be a surprise at all if the timeshare continued for a while. Remember, Leyland mixed Avila and Gerald Laird behind the plate for a good chunk of the summer. If Avila gets going and Pena is still hitting, it is easier to maintain.
Oddly enough, the years when Pena had the most playing time in Kansas City were the years when he had lesser production. The years when Pena caught 60 to 65 games were his best seasons.
Pena's goal is to keep himself ready for whatever Leyland wants out of him.
"It's one of those [situations] where I've got the opportunity to go out and play, and the fact that I don't want to let the skipper down and I don't want to let my team down," Pena said. "I just have to go out there and grind. I never take anything for granted, just continue to work and continue to improve."
Jason Beck is a reporter for MLB.com. Read Beck's Blog and follow him on Twitter @beckjason. This story was not subject to the approval of Major League Baseball or its clubs.